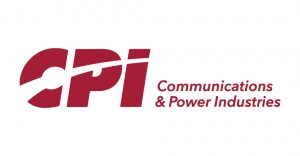 Communications & Power Industries (CPI) completed the purchase of SATCOM Technologies, the antenna systems business of General Dynamics Mission Systems, a business unit of General Dynamics.
General Dynamics SATCOM Technologies, a leading supplier of satellite and wireless communications products and services for video, voice and data worldwide.
CPI has an extensive portfolio of more than 4,500 products that is comprised of a wide range of electron device products, including microwave and power grid vacuum electron devices (VEDs) and solid-state power devices, in addition to products, such as: satellite communications amplifier subsystems based on both VED and solid-state technology, radar and electronic warfare subsystems, specialized antenna subsystems, advanced composite radomes, reflector antennas and structures, solid-state integrated microwave assemblies, medical x-ray generators and control systems, modulators and transmitters, and various electronic power supply and control equipment and devices.
Additionally, CPI has developed complementary, more highly integrated subsystems that contain additional components for medical imaging and for satellite communications applications.
| Flyaway/Manpack Antenna
| Small Deployable Antenna
| Amplifiers and Converter