930A Full Feature Inverter Drive Control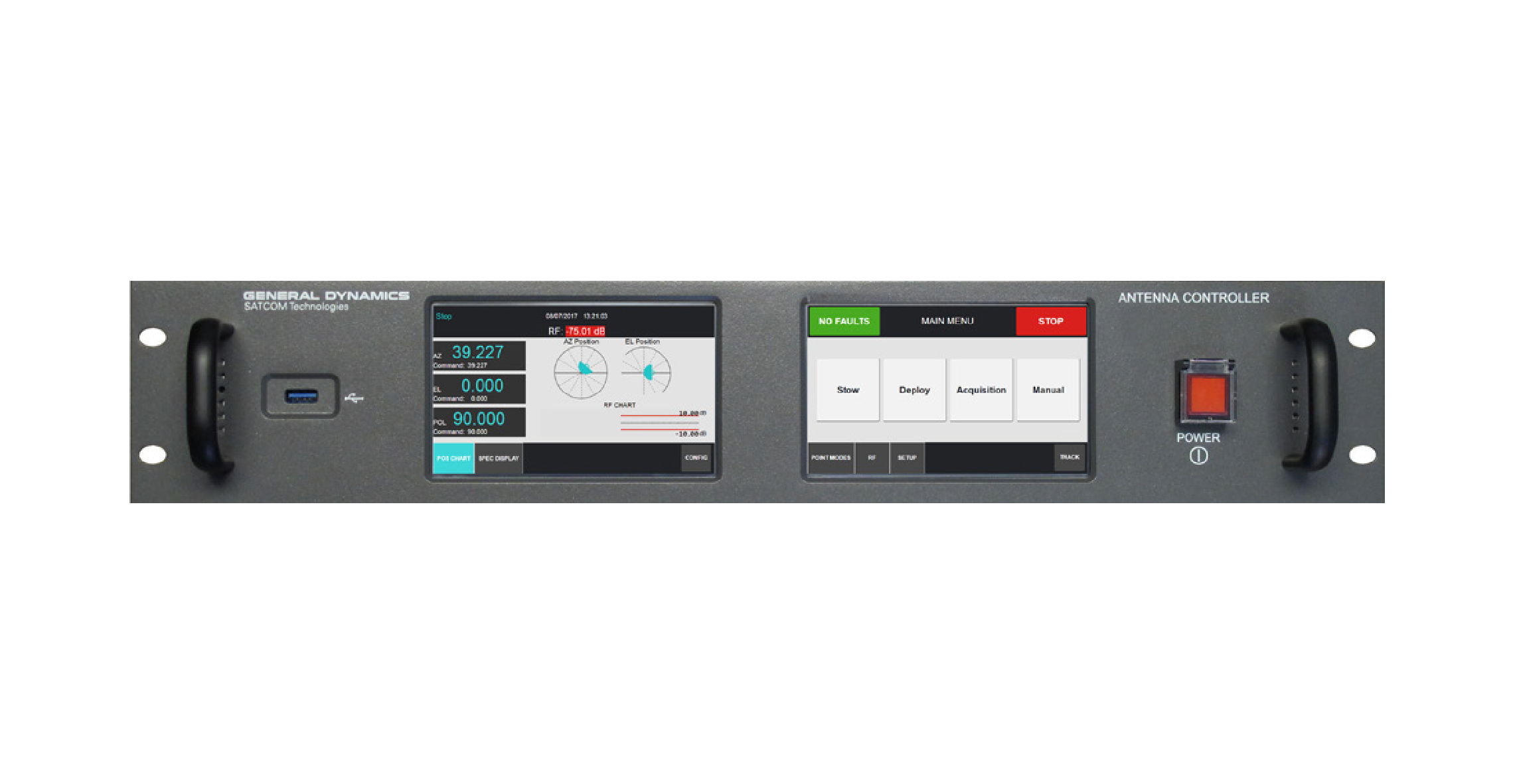 For over 50 years Communications & Power Industries (CPI) is experienced engineering staff has been developing high-precision, economical satellite tracking and control systems. As the world's leading manufacturer of satellite and ground-based products and services, our systems are designed using cutting edge technology. Our control systems can be used with almost any antenna and support a wide range of applications. The systems feature an easy-to-use, modern Ethernet interface, and are software upgradeable to protect your investment. All control systems come with an end-to-end warranty and are supported 24/7/365 days a year by our technical customer support team.
Precision Satellite Tracking and Control
Ethernet Interface
Full Software Upgradeability
System
Our latest Antenna Control System, the Model 930A, offers economical satellite tracking and control. It isideally suited for single AC fixed antennas and includes an Antenna Control Unit (ACU), Internal Tracking Receiver (TRU) and a Power Drive Unit (PDU). The Model 930A is our replacement for our long-standing Model 7134 Antenna Controller and is backwards compatible with our reliable Model 7150 Power Drive Units.
Tracking Accuracy – Enhanced Memory Track
Normally better than 10% of the receive beamwidth in winds of 30 mph gusting to 45 mph,satellite inclination of up to 5º .
Pointing Accuracy
Normally better than 10% of the receive beamwidth, RMS in winds of 30 mph gusting to 45 mph. This includes all drive train errors, but excludesstructural errors between the position transducers and RF beam.
Tracking, Pointing, and Acquisition modes
Ideal for single AC motor (per axis) antennas
Stable to 5° inclined GEO targets
Antenna Control Unit
The Antenna Control Unit (ACU) is the primary control and monitor interface point for the entire system, featuring a friendly touch screen windowed interface.
Easy touch screen operation
Informative display with color readouts
Extensive diagnostic monitoring and test capabilities
Supervisory Control Link
(Ethernet; TCP/IP or RS-232/422).
Fully software field upgradable
Portable Maintenance Unit
The Portable Maintenance Unit (PMU) provides manually commanded, bi-directional control of all axes.
Hand held ruggedized unit with a pendant cable for convenient local operation at the antenna
Backup means of moving antenna and is ACU independent
Modes include position jog and Hi/Lo speed
Optional weather proof access junction boxes at convenient antenna locations
Internal Receiver
950 – 2150 GHz L-Band input
45 dB – Hz C /N
-80 to -10 dBm input
System Options
Extended low temperature operation
Extended Warranty
PDU configurable for various motor sizes and polarization controls.
E-Stops in panel mount or J-Box
Multi-Speed Inverter PDU
The Power Drive Unit (PDU) provides digital control to the AC drive motors. It also provides controlled acceleration and deceleration profile & speed regulation range of up to 15:1 with conventional inverter rated AC motor (antenna system dependant).
The inverter PDU's are free-standing, housed in an NEMA 4 (IP66 equivalent) aluminum enclosure and contains the electrical/mechanical components necessary to move the antenna. The PDU contains an internal fan for ambient air circulation and "hot spot" avoidance and an optional thermostat controlled, internal heater for cold weather operations.
A lockable handle secures the access door while the system is operating. A Lockout, Tagout power disconnect is provided on the cabinet exterior.
Communication within the system via Ethernet between ACU, TRU, and PDU by a dedicated controller. A second Ethernet controller and port provides independent connection to M&C or customer WAN.
System design minimizes cable installation cost and complexity, and allows for flexible site layout.
Transducers
1:1 Resolver (standard)
0.0055° Resolution,
0.05° Accuracy
Standard 16 bit
AC Motor Support
Single or multiple inverter duty windings.
Optional Handcrank interlock.
208-480v 3 phase voltage windings available.
Overtemp interlock.
Up to 5 HP standard, larger upon request.