950A Full Feature Inverter Drive Control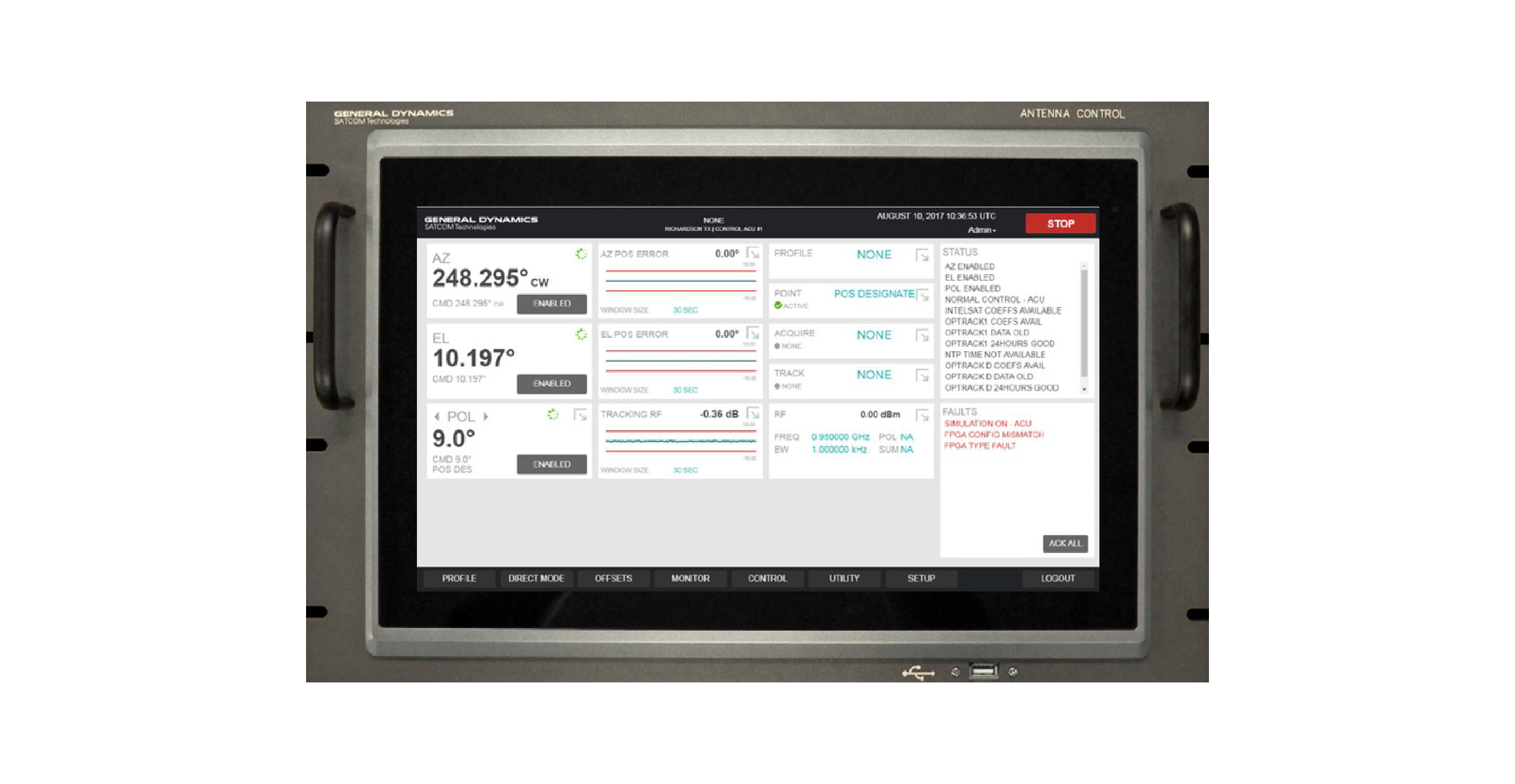 For over 50 years Communications & Power Industries (CPI) has been developing high-precision satellite tracking and control systems. As the world's leading manufacturer of satellite and ground-based products and services, our systems are designed using cutting edge technology by our experienced engineering team. Our control systems can be used with almost any antenna and support a wide range of applications. The systems feature an easy-to-use, modern Ethernet interface, and are software upgradeable to protect your investment. All control systems come with an end-to-end warranty and are supported 24/7/365 days a year by our technical customer support team.
Precision Satellite Tracking and Control
Minimizes Cross-Site Cabling
Flexible Tracking Receiver Integration
Ethernet interface and Fiber Option for Lightning Protection
Full Software Upgradeability
Monopulse Now Available
System
SATCOM Technologies' Model 950A Control System is comprised of an Antenna Control Unit (ACU), Tracking Receiver Unit (TRU) and a Power Drive Unit (PDU) which are linked via dedicated Ethernet connections. This configuration provides flexibility in locating the key system components, allows for variable separation distances, and providesimmunity to electrical ground plane transients.
The Model 950A isIntelsat- Standard A Compliant for great tracking performance, offers extensive modesfor pointing, acquisition and tracking and itssoftware is field-upgradable via a simple USB interface. In addition, the Model 950A is CE compliant for EU applications and features a touch-screen, large angle color display for modern user interfaces.
Tracking Accuracy – Optrack
Normally better than 5% of the receive beamwidth in winds of 30 mph gusting to 45 mph, satellite inclination of up to 15º and signalscintillation of up to 2 dB.
Monopulse Tracking
The monopulse option provides high performance and new life to existing antennas at an economical price point.
Pointing Accuracy
Normally better than 0.05º RMS in winds of 30 mph gusting to 45 mph. Thisincludes all drive train errors, but excludesstructural errors between the position transducers and RF beam.
Tracking, Pointing, and Acquisition modes
Ideal for single AC motor (per axis) antennas
Single, Dual, or Multi-speed antenna motor drives
Stable to highly inclined GEO targets
Flexible receiver options
Designed to minimize site cabling
Antenna Control Unit
The Antenna Control Unit (ACU) is the primary control and monitor interface point for the entire system, featuring a friendly touch screen windowed interface.
Optrack, which provides high performance tracking of stable or inclined orbit satellites with an adaptive,
Self-learning ephemeris modeling mode
Easy touch screen operation
Informative display with full text color readouts
Extensive diagnostic monitoring and test capabilities
Antenna and satellite simulators
Supervisory Control Link Ethernet; TCP/IP
Fully software field upgradable
Portable Maintenance Unit
The Portable Maintenance Unit (PMU) provides manually commanded, bi-directional control of all axes.
Hand held ruggedized unit with a 10-ft pendant cable and 40-ft extension cable for convenient local operation at the antenna
Backup means of moving antenna and is ACU independent
Four line, 20 character display for axis positions, tracking signal strength, and scrolling status messages
Modes include position jog and Hi/Lo speed
Optional weather proof access junction boxes at convienient antenna locations
Enable/Disable per axis
Receiver Options
Model 500 series of Tracking Receivers in Analog, or Digital with Spectrum Display.
2 RU Digital Model 550 with dual 5 inch displays
2 RU Analog Model 520 with dual 5 inch displays
Model 520 or 550 Receiver module mounted behind ACU for zero additional rack space requirements.
Receivers also available with internal block down converters for common frequency bands
System Options
Fiber Optic ACU-PDU Link
Time Synchronization via NTP
Manual Control Unit
Rack mount Tracking Receiver
Extended low temperature operation
Extended Warranty
PDU configurable for various motor sizes and polarization controls.
E-Stops in panel mount or J-Box
Multi-Speed Inverter PDU
The Power Drive Unit (PDU) provides all digital control to the AC drive motors and contains the hardware/firmware logic to close the position and tracking loops with high resolution. It also provides controlled acceleration and deceleration profile & speed regulation range of up to 15:1 with conventional inverter rated AC motor (antenna system dependant).
The inverter PDU's are free-standing, housed in an NEMA 4 (IP66 equivalent) aluminum enclosure and contains the electrical/ mechanical components necessary to move the antenna. The PDU contains an internal fan for ambient air circulation and "hot spot" avoidance and an optional thermostat controlled, internal heater for cold weather operations. Single speed contactor configurations are also supported.
A lockable handle secures the access door while the system is operating. A Lockout, Tagout power disconnect is provided on the cabinet exterior. Mounted in the enclosure is a panel assembly consisting of the Antenna Control Board (ACB) logic, power supply, inverter drives, and various ancillary devices. Status interlocks and position signals report to the ACB and, while in constant communication with the ACU, the ACB transmits information and receives commands to control movement of any antenna axes.
Communication within the system via Ethernet between ACU, TRU, and PDU by a dedicated controller. A second Ethernet controller and port provides independent connection to M&C or customer WAN.
System design minimizes cable installation cost and complexity, and allows for flexible site layout.
Manual Control Unit
The Manual Control Unit (MCU) provides manually commanded, bi-directional control of all axes.
Slim, 1RU chassis
PMU functionality
Transducers
1:1 Resolver (standard)

0.0055° Resolution,
0.05° Accuracy
Standard 16 bit

Position Encoder (option)

0.00001º Resolution,
0.0055º Accuracy
25-bit Optical
AC Motor Support
Single or multiple inverter duty windings.
Optional Handcrank interlock.
208-480v 3 phase voltage windings available.