990A Full Feature Linear Drive Control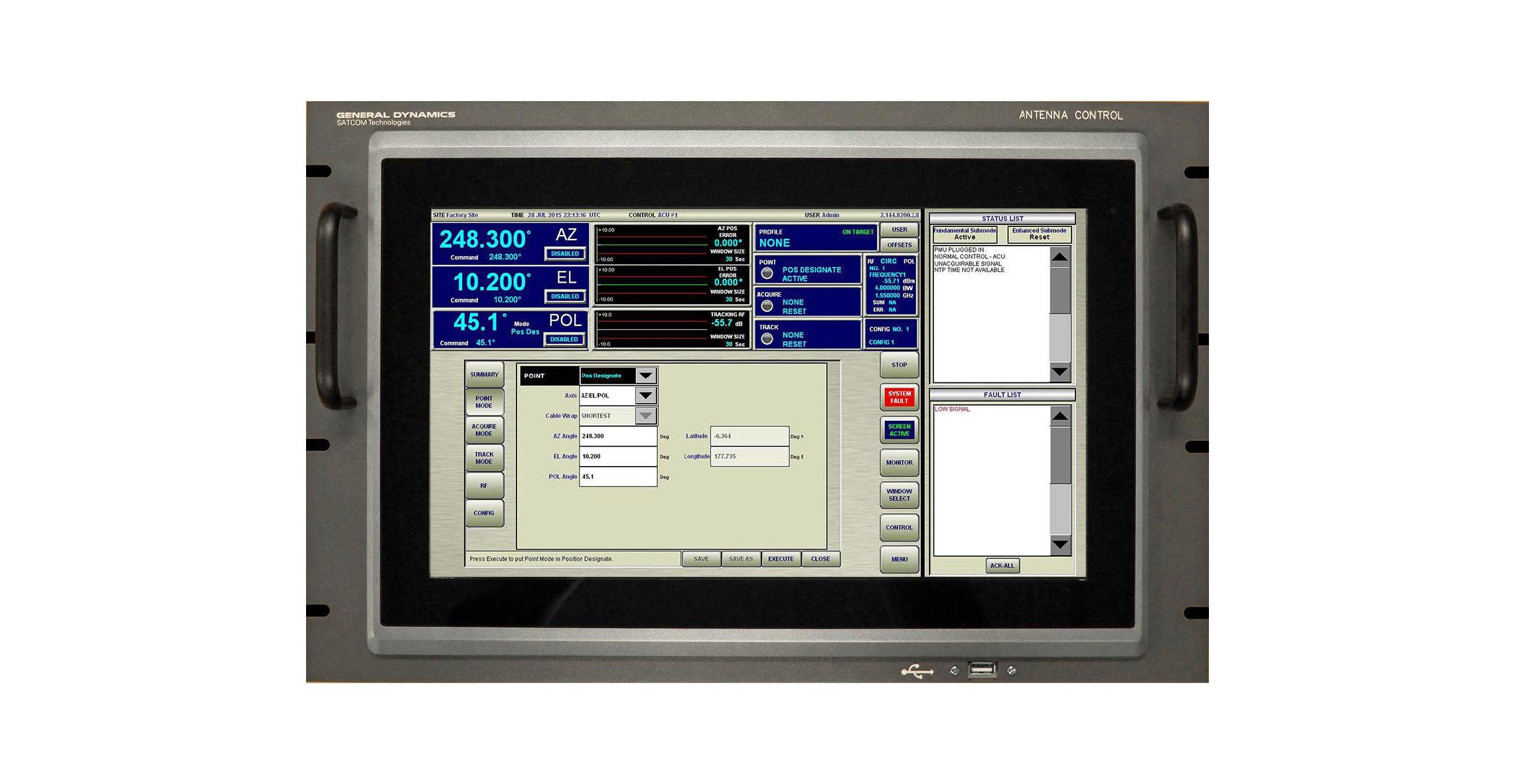 The Model 990 Control Systems can be used with almost any full motion antenna for precision satellite, spacecraft, or celestial tracking applications.
System
The system comprises an Antenna Control Unit (ACU), Tracking Receiver Unit (TRU) and a Power Drive Unit (PDU) which are linked via dedicated Ethernet connections. This provides flexibility in locating the key system components, allows for variable separation distances and provides immunity to electrical ground plane transients.
Tracking Accuracy
Optrack – Normally better than 5% of the receive beamwidth in winds of 30 mph gusting to 45 mph, satellite inclination of up to 15º and signal scintillation of up to 2 dB.
Monopulse – For dynamic targets, normally better than 3% of the receive beamwidth for 30mph gusting winds. Minimum scintillation sensitivity.
Pointing Accuracy
Normally better than 0.010º RMS in winds of 30 mph gusting to 45 mph as measured at the axis position transducer. The ACU bias correction Model will significantly supress systematic errors affecting RF beam spatial accuracy.
Tracking, Pointing, and Acquisition modes
Single or multiple drives per axis, multiple axes
AZ/EL, X-Y, HA/Dec, and AZ/EL/Tilt pedestals
GEO, LEO, TT&C, RADAR, or Celestial applications
Single or Multi-Band operation
Wide dynamic range and fine control resolution
Antenna Control Unit
The Antenna Control Unit (ACU) is the primary control and monitor interface point for the entire system, featuring embedded processing and a friendly touch screen windowed interface.
Detailed status with color enhancement
Easy touch screen operation
Informative display with full text color readouts
Extensive diagnostic monitoring and test capabilities
Antenna and satellite simulators
Time based active parameter display
Ethernet ACU-PCU Control Link
Portable Maintenance Unit
The Portable Maintenance Unit (PMU) provides manually commanded, bi-directional control of all axes. It has the following features:
Hand held ruggedized unit with a 50-ft pendant cable for convenient local operation at the antenna
Backup means of moving antenna and is ACU independent
Four line, 20 character display for axis positions, tracking signal strength, mode and scrolling status messages
Modes include position jog, Hi/Lo speed (variable)
Weather proof access junction boxes at convenient antenna locations
Enable/Disable per axis
Power Drive Unit (PDU)
The Power Drive Unit (PDU) provides all digital control to the linear DC drive motors and contains the hardware/firmware logic to close the position and tracking loops with high resolution. It also provides controlled maximum acceleration and deceleration profile limit windows.
A lockable handle secures the access doors while the system is operating. Lockout, tagout power disconnects are provided within the cabinet interior. Mounted in the enclosure is a panel assembly consisting of the Antenna Control Board (ACB) logic, power supply, motor controllers, and various ancillary devices. Status interlocks and position signals report to the ACB and, while in constant communication with the ACU, the ACB transmits information and receives commands to effect movement of any antenna axes. PDUs can be optionally equipped with EMI/RFI protection, and/or CE certification.
The all digital ACB includes 3 embedded microprocessors for local position and rate loop closures
Dedicated Ethernet link to ACU (fiber optic optional)
Antenna interlock switches monitored by redundant hardware for microprocessor independent safety shutdown
Self adjusting countertorque/preload and differential/delta tachometer compensation logic for multiple motor systems
Available in Brushless DC, SCR, or Vector motor controller configurations
Manual Control Unit
The Manual Control Unit (MCU) provides manually commanded, bi-directional control of all axes.
Slim, 1RU chassis
PMU functionality
ACU Options
Dual/Remote ACUs
Fiber Optic Ethernet
Tracking Receiver Display with Spectrum Analyzer
Dual Ethernet
Tracking Receiver
Beacon or Carrier
Monopulse or Signal Strength for Optrack
Digital Signal Processor (DSP) Based Receiver
System Options
CE Certified
Fiber Optic ACU-PDU Link
SNMP Monitor and Control
Redundancy
Manual Control Unit
Rack mount Tracking Receivers
Stainless Steel PDU for Salt Environment
Extended temperature ranges
Time Synchronization via NTP, IRIG-B or 1PPS
High level EMI Suppression
PDU configurable for various motor sizes and polarization controls
Axis Stow Pin Control
DC Brushless Motor
Outdoor rated (IP67), with epoxy painted laminations and exterior, stainless steel and anodized aluminum hardware, high grade lubrication and sealing, and pressure equalization diaphram
Optional handcrank access via extended rear shaft with personnel access safety interlock.
High efficiency
Ideal torque source
Wide range of available configurations to match application requirements
Resolver Sensor for smooth sine commutation
DC Tach, Virtual Tach and Incremental Encoder Motor Rate Feedback
Transducers
High Accuracy Resolver

0.0003º Resolution, 0.003º RMS Accuracy
20 bit, 16:1 multi-speed electrical design
Position Encoders

Absolute Position
Available with resolution up to 26 bit, and accuracy to sub arc seconds