Cradlepoint IBR900 Series
Compact, ruggedized Gigabit-Class LTE router for advanced in-vehicle and IoT connectivity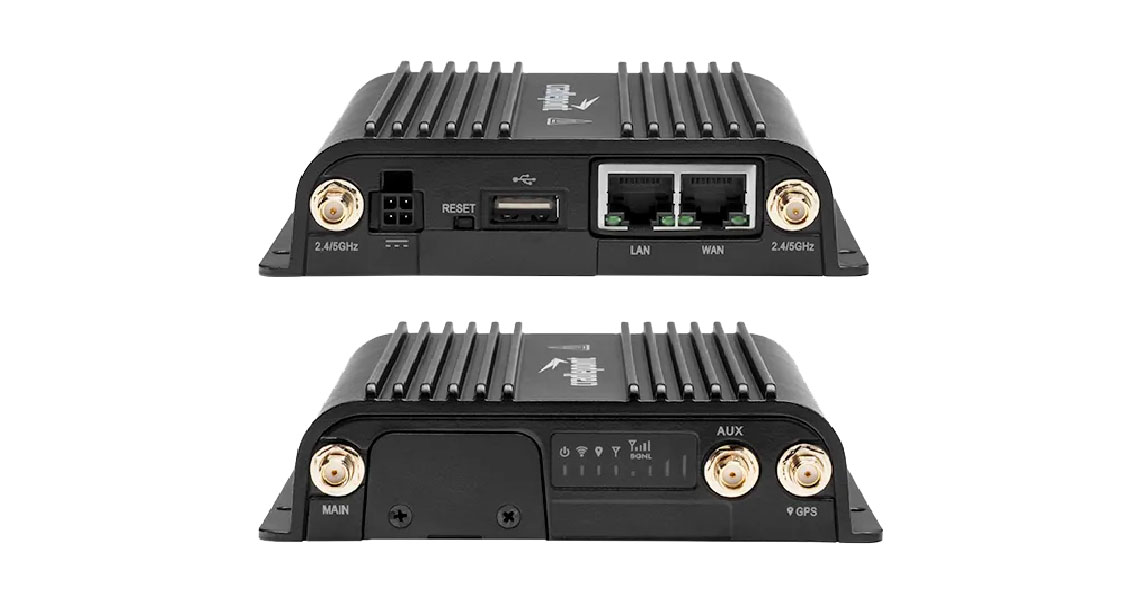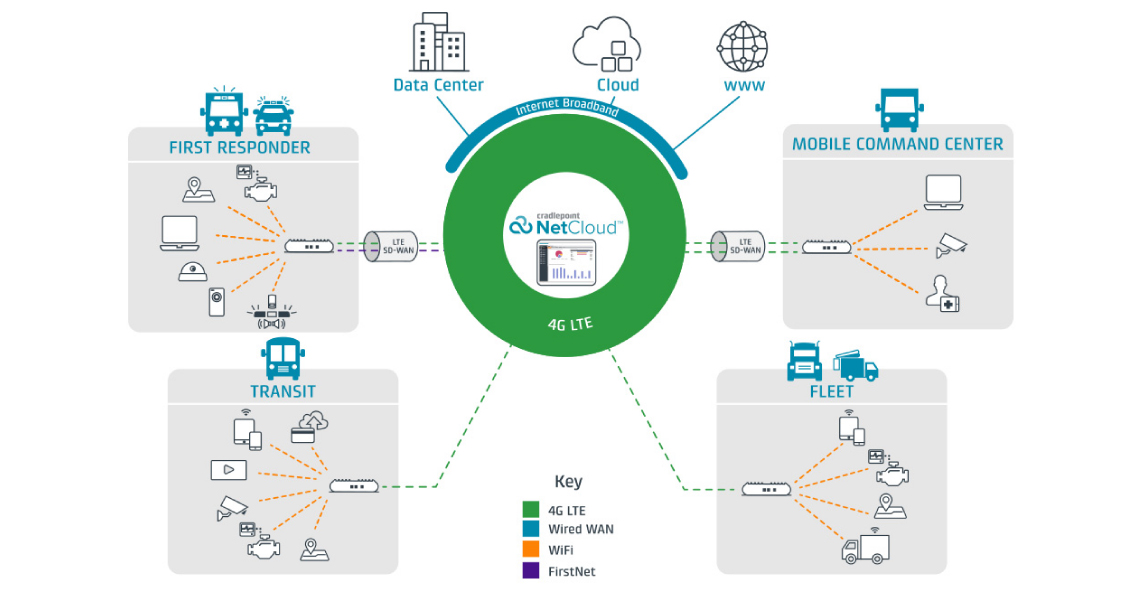 The Cradlepoint IBR900 Series router is a rugged, compact solution for M2M or IoT networking, particularly for vehicles. This 4G/LTE mobile router can use cellular broadband, wired WAN or Wi-Fi as WAN connections to create a secure wireless network. Each model in the Cradlepoint IBR900 Series router has Gigabit Ethernet, Gigabit Wi-Fi and a quad-core processor to support the fastest ISPs with intelligent failover and load balancing on multi-connection setups. By using Cradlepoint NetCloud Manager, users can remotely manage and configure their network platform.
Robust, dependable Gigabit-Class LTE network platform for first responders and commercial fleets
Ruggedized for vibration, shock, dust, splash, and humidity
Mobile SD-WAN for optimized multi-link LTE connectivity
GPS for AVL integration and location tracking to provide current and historic vehicle location
Dual-modem capability with COR Extensibility Dock for multi-link dependability
Heatmapping for an LTE signal strength map of all areas a fleet has driven
WiFi-as-WAN for data-intensive tasks such as video offload
WAN
Dual-modem capable with optional COR Extensibility Dock
WiFi-as-WAN, with WPA2 Enterprise Authentication for WiFi-as-WAN
Failover/Failback
Load Balancing
Advanced Modem Failure Check
WAN Port Speed Control
WAN/LAN Traffic Steering
IP Passthrough
Standby
DynDNS
QoS (DSCP and Priority Queuing)
LAN
VLAN 802.1Q
DHCP Server, Client, Relay2
DNS and DNS Proxy
UPnP
DMZ
Multicast/Multicast Proxy
MAC Address Filtering
WiFi
Dual-Band, dual-concurrent
802.11 a/b/g/n/ac wave 2—MU-MIMO and 256 QAM support
Multiple SSIDs: 2 per radio (4 total)
WPA2 Enterprise (WiFi)
Hotspot/Captive Portal
SSID-based Priority
Client Mode for faster data offload
Frequencies supported:

2.4 GHz (2412 – 2472 MHz)
5 GHz

U-NII-1 (5.150-5.250 GHz)
U-NII- 2a (5.250-5.350 GHz) North America IBR900-600M Only
U-NII-2c (5.470-5.725 GHz) North America IBR900-600M Only
U-NII-3 (5.7225-5.825 MHz) North America Only
Management
Cradlepoint NetCloud Manager
Web UI, API, CLI
Active GPS support on all models
Data Usage Alerts (router and per client)
Advanced Troubleshooting (support)
Device Alerts
SNMP
SMS control
Serial Redirector
Auto APN Recovery
Syslog
VPN & Routing
IPsec Tunnel – up to ten concurrent sessions
L2TP
GRE Tunnel
OSPF/BGP/RIP
Route Filters (Access Control Lists, Prefix Filters, Route Maps, Communities for BGP)
Per-Interface Routing
Routing Rules
Policy-based Routing
NAT-less Routing
Virtual Server/Port Forwarding
NEMO/DMNR
IPv6
VRRP
STP
NHRP
VTI Tunnel support
OpenVPN support
CP Secure VPN compatible
Serial PAD Mode
Remarks
*Native support for authentication. Authorization and accounting support through hotspot/captive portal services.
**802.1x Authentication for Ethernet not available for FIPS SKUs.
Cloud Optimized IP Communications
Cloud Optimized IP Communications
Automated WAN Failover/Failback support
WAN Affinity and QoS allow prioritization of VoIP services
Advanced VPN connectivity options to HQ
SIP ALG and NAT to allow VoIP and UC communications to traverse firewall
MAC Address Filtering
802.1p/q for LAN QoS segmentation and treatment of VoIP on LAN
Private Network support (wired and 4G WAN)
Cloud-based management
IoT Connector
NetCloud Edge Connector for Microsoft Azure IoT Central
Application