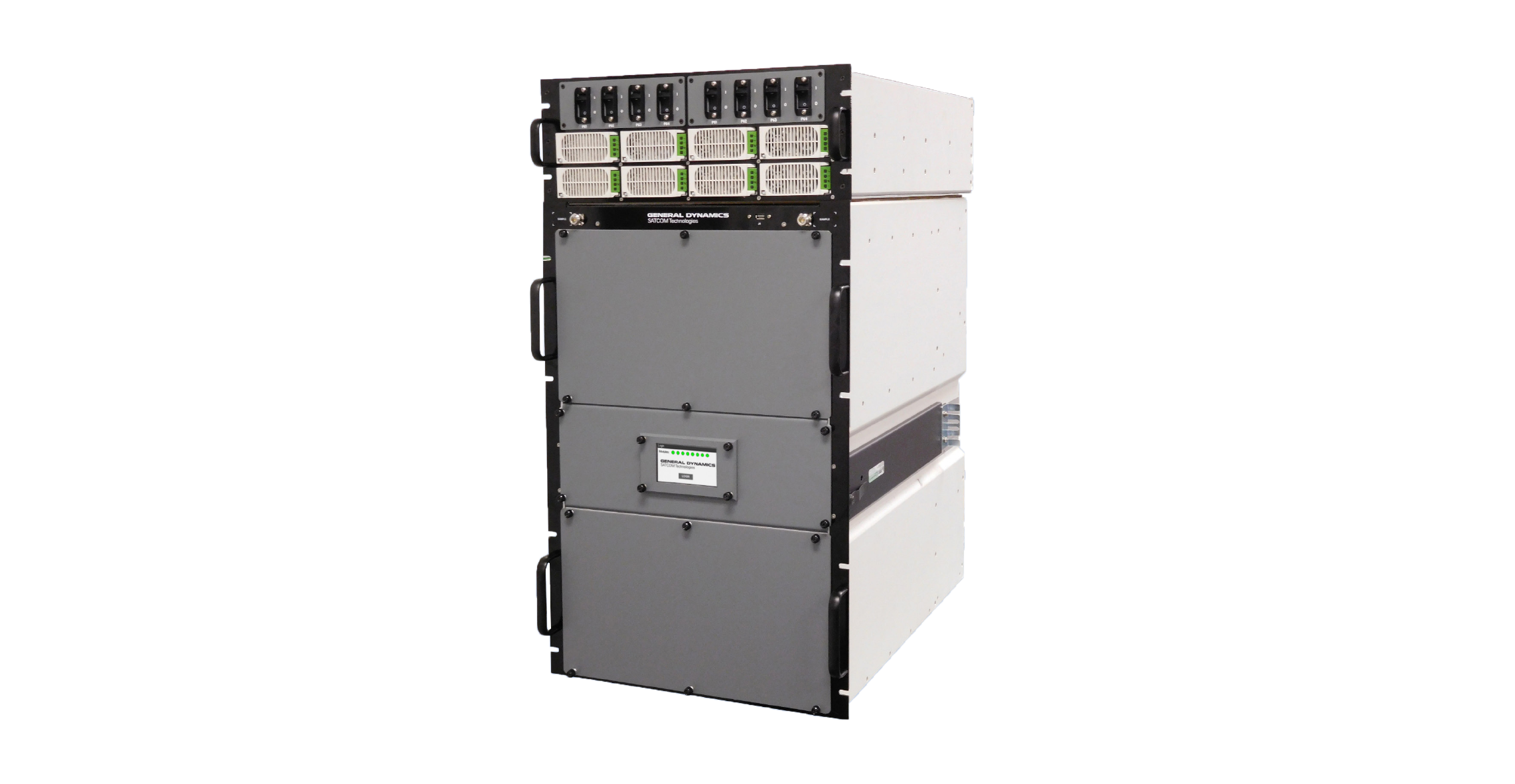 General Dynamics' SATCOM Technologies ModuMAX SSPAs are designed to meet the most critical link applications, using GaN-based amplifiers to offer output power up to 1800 watts in Ku-Band. Leveraging patented technology and field-proven architecture, the ModuMAX SSPAs are completely modular and utilize passive combining of eight truly hot-swappable, plug-in RF modules as well as power supplies and other hot-swappable electronic assemblies to maximize performance and minimize downtime.
Designed for ease-of-use, with embedded secure web page and state-of-the-art technology, operators can keep in touch with performance indicators on a real-time basis via remote monitoring or email alerts. For over 15 years, ModuMAX systems have been the preferred choice of broadcasters, telecommunication services, and teleports worldwide that require 100 percent uptime.
Plug-and-play hot-swappable design maximizes performance and minimizes downtime
Mean Time to Repair (MTTR) of less than 3 minutes for field-serviceable components
Automated prime power saving and link recovery software
Easy-to-use color touch screen for local control
Embedded web page and automated email alerts
Virtual factory real-time support
Multiple redundancy configurations available
3-Year all-inclusive warranty
Embedded web browser, with remote monitoring
Remote software upgrade, and factory monitoring and assistance capabilities
Easy To Operate And Maintain
Front panel color touch screen offers quick and easy access for on-site operational control
Full remote control of all features via the standard network and RS-232/-422/-485 interfaces
Fast and easy servicing via eight hot-swappable RF modules accessible from the front panel
No downtime during module replacement
Modular Power Supply
Powered by up to 8 identical 48-volt dc power supply modules that share the SSPA power load in an "N+1" configuration
Built-in sufficient margin ensures that the loss of a single module will not affect operations and any module can be hot-swapped without interruption via front panel
Distribution bus connected to the chassis via extremely safe, keyed, quick-connect, self securing connectors
Automatic logging of operational parameters of the power supply modules such as temperature, current and voltage
Parallel Architecture
RF and power supply modules readily accessible on the front of the chassis for easy maintenance
Solid state RF power amplifiers and power supply modules configured in parallel to share load making the ModuMAX SSPAs extremely reliable and fault-tolerant
Passive RF combining architecture provides robust design with no single point of failure allowing the system to stay online during a module replacement
RF modules combined in efficient, waveguide power combining enabling multi-level self-redundant configurations
Front swappable modules eliminates cumbersome back of chassis cabling problems
Hot-swappable major system components (power supply modules, fans, logic board, parallel I/O board, front panel touch screen) enables continuous uptime
RF Plug-In Modules
8 identical and fully interchangeable RF plug-in modules
GaN technology provides improved reliability and higher linear output power compared to GaAs technology
Module status is indicated via the touch screen front panel as well as an LED on each module
Software continuously monitors temperature, voltage and current performance and auto-corrects for changes associated with long-term component operation, enhancing long term performance while logging parameter changes
Electrical interfaces for power and RF provided by blindmate connectors located at the back of the RF plug-in modules
Elimination of cables makes swapping modules easy and fast
Sizing Your ModuMAX
Correct power sizing of the ModuMAX is critical for operational performance, ease-of-maintenance, and future expansion of additional carrier service. In addition to link budget power, inter-facility loss, and rain fade margin, the amplifier can be enhanced to leverage configurable power, fault recovery, as well as foreseeable additional service requirements. In addition, the ModuMAX can be phase combined with another ModuMAX to achieve higher power for additional multi-carrier operation.
Auto-Recovery
Failure of an RF module causes a drop of only 1.2 dB in output power until the auto-recovery software selects and enables an in-chassis spare module, or increases the gain of the remaining on-line RF modules
Unlike conventional, switched redundant systems, there is no interruption of the uplink
Defective modules can be hot-swapped while the SSPA continues to operate
Cooling System
Integral forced-air cooling system with fault-tolerant redundancy minimizes RF plug-in module temperature rise, maintaining RF power capability and increasing operational lifetime
Built-in margin tolerates the loss of one cooling fan
Monitoring of fan rotational speed and failure via the control panel display and via the M&C interfaces
Easily remove and replace fans in the air-cooling system without taking the SSPA off-line
In the event of a fan failure, the SSPA will continue to operate until a replacement is installed
Separate air cooling system rear panel air intake and exhausts that can be ducted outdoors or into the room
User Interface—Leading Edge Software
The ModuMAX GaN SSPA is equipped with a color touchscreen for local control along with a leading-edge TCP/IP embedded web page software package. The software can be configured for remote monitoring and firmware upgrades, while allowing virtual factory access to monitor the amplifier system's key performance parameters such as temperature, current, and voltage measurements to individual component levels. The software is on a SNMP v3 secure protocol base capable of issuing email alerts.
Sparing
Sparing costs are minimized by utilizing a prudent spares kit capable of covering numerous systems. Spare RF modules are affordable, since replacement is restricted to the module level. Spare modules can go from shelf to on-line in minutes.
Global EMC And Safety Compatibility
ModuMAX SSPA systems are certified to applicable EU EMI/EMC and safety standards.