แพลนเน็ตคอมฯ ร่วมต้านคอร์รัปชั่น ด้วย
นโยบาย "No Gift Policy" งดรับของขวัญทุกเทศกาล
20 December 2561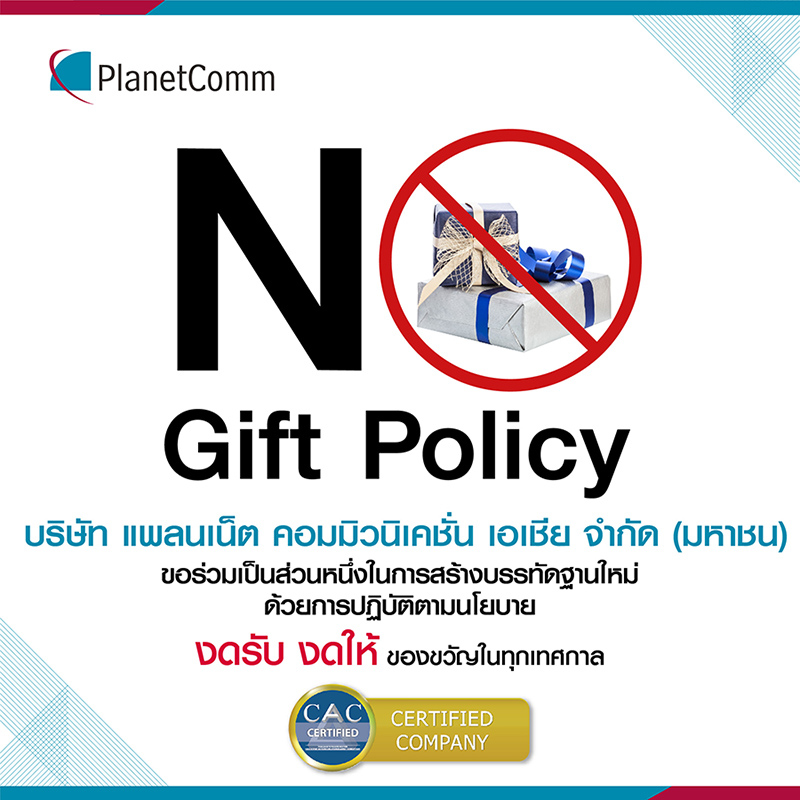 บริษัท แพลนเน็ต คอมมิวนิเคชั่น เอเชีย จำกัด (มหาชน) และบริษัทในเครือ มุ่งมั่นในการดำเนินธุรกิจร่วมกับลูกค้า คู่ค้า และผู้มีส่วนเกี่ยวข้องทางธุรกิจบนพื้นฐานความโปร่งใส เป็นธรรม และตรวจสอบได้
ด้วยความมุ่งมั่นดังกล่าว ทางบริษัทฯขอร่วมเป็นส่วนหนึ่งในการสร้างบรรทัดฐานใหม่ หยุดคอร์รัปชั่น ด้วยการปฏิบัติตามนโยบาย "No Gift Policy" งดรับ งดให้ ของขวัญ ในทุกเทศกาล
บริษัทแพลนเน็ตคอมฯ ขอน้อมรับความปรารถนาดีและขอบคุณในการสนับสนุนเสมอมา
ความร่วมมืออย่างดีของท่าน คือของขวัญที่ดีที่สุดสำหรับเรา
Planet Communication Asia PLC. And Subsidiaries are committed to conduct business in cooperation with customers, vendors, or business partners on the basis of fairness, transparency, and accountability.
In line with this commitment, we would like to request for your kind cooperation to refrain from giving gifts to the employees during any occasions.
Thank you for your continuing support!
Your continued cooperation is the best gift for us!
บริษัทแพลนเน็ตคอมฯ ขอน้อมรับความปรารถนาดีและขอบคุณในการสนับสนุนเสมอมา
ความร่วมมืออย่างดีของท่าน คือของขวัญที่ดีที่สุดสำหรับเรา