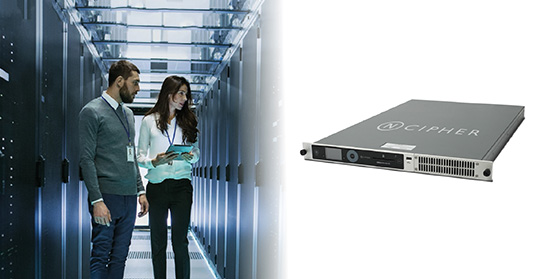 nShield Connect hardware security modules (HSMs) are certified, networked appliances that deliver cryptographic key services to applications distributed across servers and virtual machines.
nShield Connect HSMs are FIPS-certified appliances that deliver cryptographic services to applications across the network. These tamper-resistant platforms perform such functions as encryption, digital signing and key generation and protection over an extensive range of applications, including certificate authorities, code signing, custom software and more.
The nShield Connect series includes nShield Connect+ and the new, high-performance nShield Connect XC.
HIGHLY FLEXIBLE ARCHITECTURE: nCipher's unique Security World architecture lets you combine nShield HSM models to build a mixed estate that delivers flexible scalability and seamless failover and load balancing.
PROCESS MORE DATA FASTER: nShield Connect HSMs support high transaction rates, making them ideal for enterprise, retail, IoT and other environments where throughput is critical.
PROTECT YOUR PROPRIETARY APPLICATIONS: The CodeSafe option provides a secure environment for running sensitive applications within nShield boundaries.