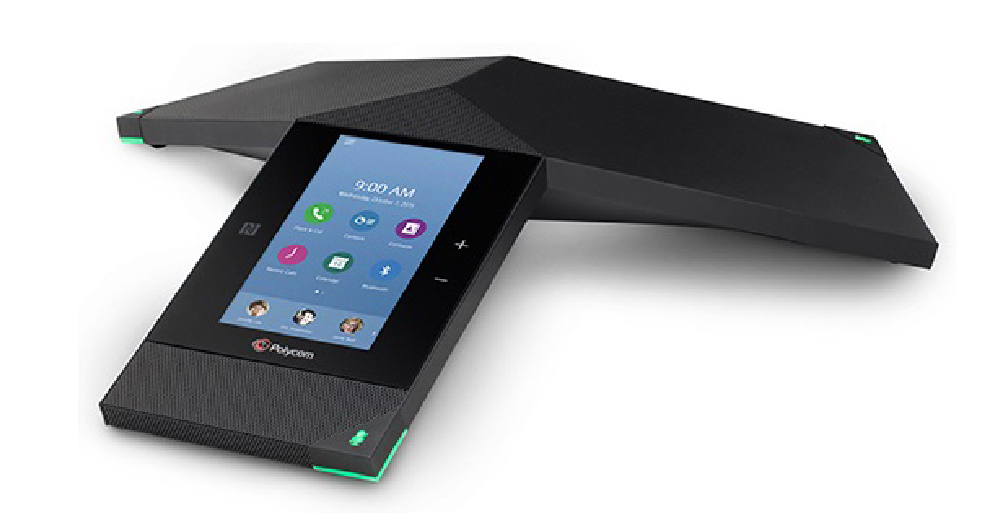 The conference phone reimagined for Skype for
Business and Microsoft Office 365 Cloud PBX
Poly Trio 8800 is the conference phone reimagined for larger conference rooms. Marrying our world-class audio conferencing experience, with business-class
video and content, the Poly Trio connects to the leading unified communications platforms of today and tomorrow.
Benefits
Legendary voice quality for the clearest and richest audio experience in a conference phone
Accelerate user adoption by pairing your own portable devices (BYOD) via USB, Bluetooth/NFC or IP
Skype for Business interface is familiar, minimizes mistakes, and speeds connection with "one touch join"
Conveniently manage and provision using Poly RealPresence Resource Manager
Hybrid registration support for connecting to multiple platforms simultaneously. Register up to 3 separate lines
Easily adapts to content and business-grade video conferencing solution*
Legendary Voice Quality
Poly Trio is a revolutionary conference phone offering stunning room-filling sound for the best conference experience – ever. With a 20-foot pickup range and
advanced audio technology such as enhanced Poly HD Voice™ and the patented Poly NoiseBlock, conversation flows naturally and you hear every word clearly. What does this mean to you? It means increased productivity. A cheap conference phone may appear to be a savings at first – but the fatigue caused by audio that seems "good enough" is costly in the long run. Straining to hear the other side, echo, distracting background noise all result in wasted time, and there is quite a bit of truth in the old adage "time is money."
The sleek and sophisticated, award-winning design of Poly Trio makes conferencing simple. A 5-inch color touch display and intuitive, familiar Skype for Business interface minimizes training. And with Microsoft Exchange integration, scheduled meetings can get started with one touch of the join button resulting in
fewer mistakes and quick starts for every meeting.
Feel free to use your personal device wirelessly via Bluetooth/NFC, IP or wired via USB and experience exceptional sound quality when using web-based or cloud
conferencing services.
Broadest Interoperability
Working together with Microsoft, we have designed the Poly Trio 8800 to maximize the power of Skype for Business and Office 365 Cloud PBX powered by Skype for Business online. Poly Trio conference phones are the only Skype for Business certified conference phones on the market. Even though Skype for Business may be your primary platform, if you choose to add others, Poly Trio can do that – no problem.
Affordable Business-Class Content Sharing and Video Conferencing*
The Poly Trio 8800 conference phone also offers the optional ability to present and share content and add video conferencing. Add the Poly Trio Visual+ and either a USB fixed web camera** or the Poly EagleEye MSR 12x optical PTZ camera, and now you have a powerful and affordable audio, content and video conferencing solution.
Remark
*Requires Poly Trio Visual+ accessory
**Logitech C930e camera only
| Accessories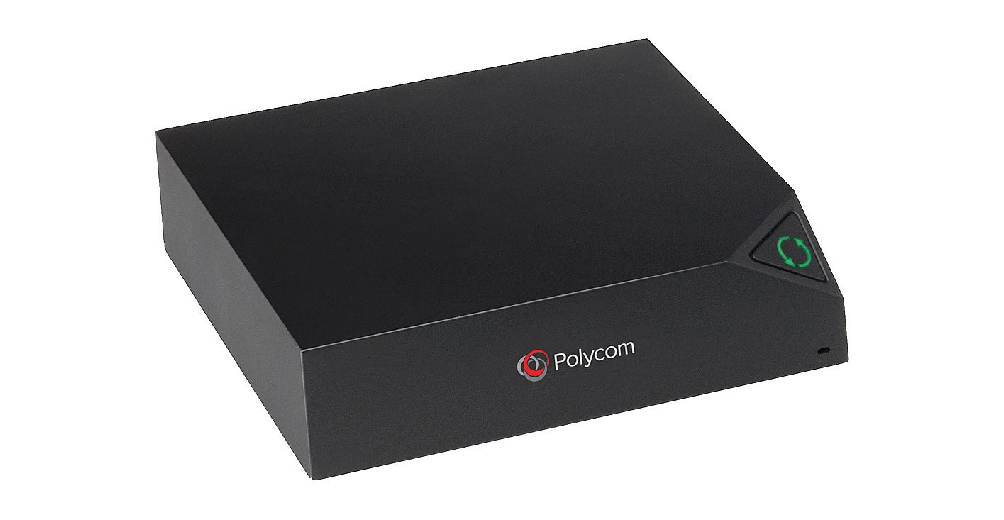 Poly Trio Visual+
Turn your audio calls into productive, collaborative meetings