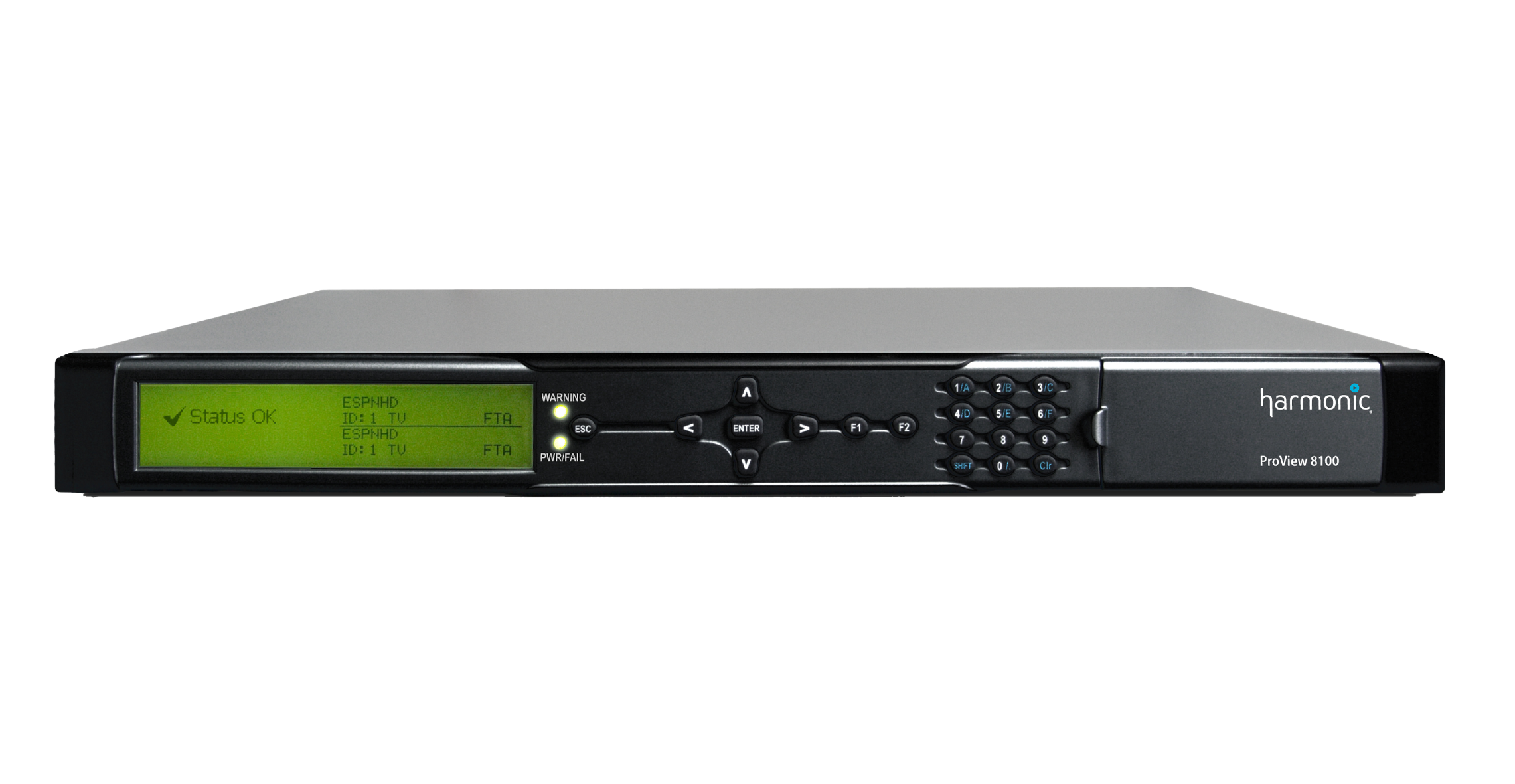 The first member of the all-new Harmonic ProView™ 8000 family of integrated receiver-decoders, the ProView 8100 single-channel commercial decoder and descrambler is a compact, fully featured unit for general-purpose primary distribution applications.
With the ProView 8100, migrating to an all-IP headend and powering the launch of value-added services has never been easier. Users can
receive DVB-S/S2, IP or ASI signals, decode SD and HD MPEG-2 and MPEG-4 AVC transport streams to baseband, descramble encrypted
programs, and output content to analog or digital. Reception of broadcast-quality video over the Internet is also supported. Harmonic's
superior video quality and low latency ensure the timely distribution of content at resolutions up to 1080p50/60.
Workflow efficiency is a key trait of the ProView 8100. The unit provides simultaneous HD-SDI and SD-SDI output with high-quality HDto-
SD down-conversion, allowing operators to use the same device to feed both the HD and SD production chains.
The 1-RU ProView 8100 supports a rich set of interfaces, including two independent RF ports, DVB-ASI and IP inputs and outputs, and 3G
HD-SDI and HDMI outputs. This I/O flexibility allows the unit to integrate with any headend architecture and enables support for advanced
content delivery redundancy schemes, such as primary satellite and backup IP network feeds. In addition to live broadcasting, the ProView
8100 supports extraction of encapsulated video content as Multiprotocol Encapsulation (MPE) data for offline distribution — a particularly
valuable feature for distribution of syndicated content to network affiliates.
Simple front-panel controls on the ProView 8100 and an intuitive web-based interface let users quickly set all system parameters and
store presets for fast recall. Integration with the Harmonic DMS™ video distribution management system allows users to deploy and
manage a large pool of widely distributed ProView devices from a single interface, resulting in a highly flexible, cost-effective primary
distribution solution.
Single-channel SD/HD MPEG-2/MPEG-4 AVC decoding and descrambling
DVB-S/S2, DVB-ASI and IP inputs
Two independent RF ports
Reception of broadcast-quality video over the Internet
Simultaneous HD-SDI and SD-SDI output
High-quality HD-to-SD downconversion
3G HD-SDI output supports 1080p60 workflows
ASI, IP, HDMI and analog video outputs
4:2:0 subsampling
Integrated BISS and Verimatrix® support, dual DVB-CI slots
Front-panel controls and intuitive, web-based GUI
Compatible with Harmonic DMS video distribution management system