Satellite Mobile Vehicles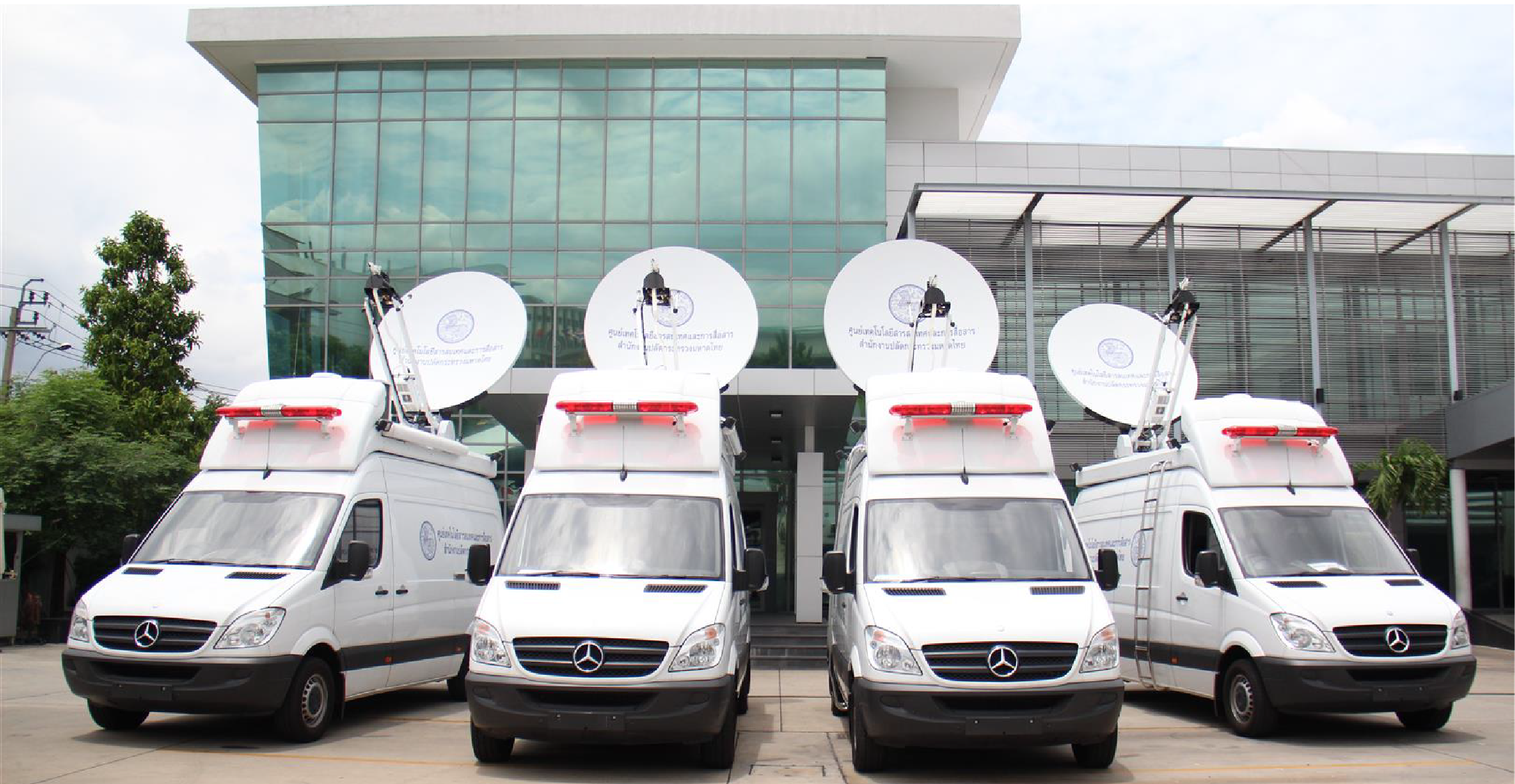 Planet Communications Asia Co.,Ltd.,
PlanetComm, we are Leader of Telecommunications and Digital TV Technologies in ASEAN region. We design, make, integrate, install Total Solution System for Enterprise, Public Sector, Service Provider, Broadcasting and International Clients/Markets. Our diversified technologies and products are developed from world class vendors as well as our in-house R&D team, which are consisting of Wireless Network, Wired Network, Multimedia and Digital TV. By our proven experiences and technical knowledge since 1994, we are confident to make communications work for our customer's requirements as a Trusted Advisor. Our professional services from Pre-Sales, Implementation and After Sales are processing through ISO 9001:2008 quality standards.
PlanetComm received ISO9001 Version 2000 certification on September10th 2001 and operates under ISO 9001 Version 2008 on September 17, 2010
At PlanetComm, we have experience to design, customize, integrate and produce any kinds of wireless. Our success is to fulfill the customer needs and requirement to serve their critical mission such as mobile command center,  rapid response vehicle, Digital Satellite News Gathering (DSNG) etc. We have the variety of mobile vehicles, small, medium and large vehicle, to fit our customer budget, meet requirement and comply the policies.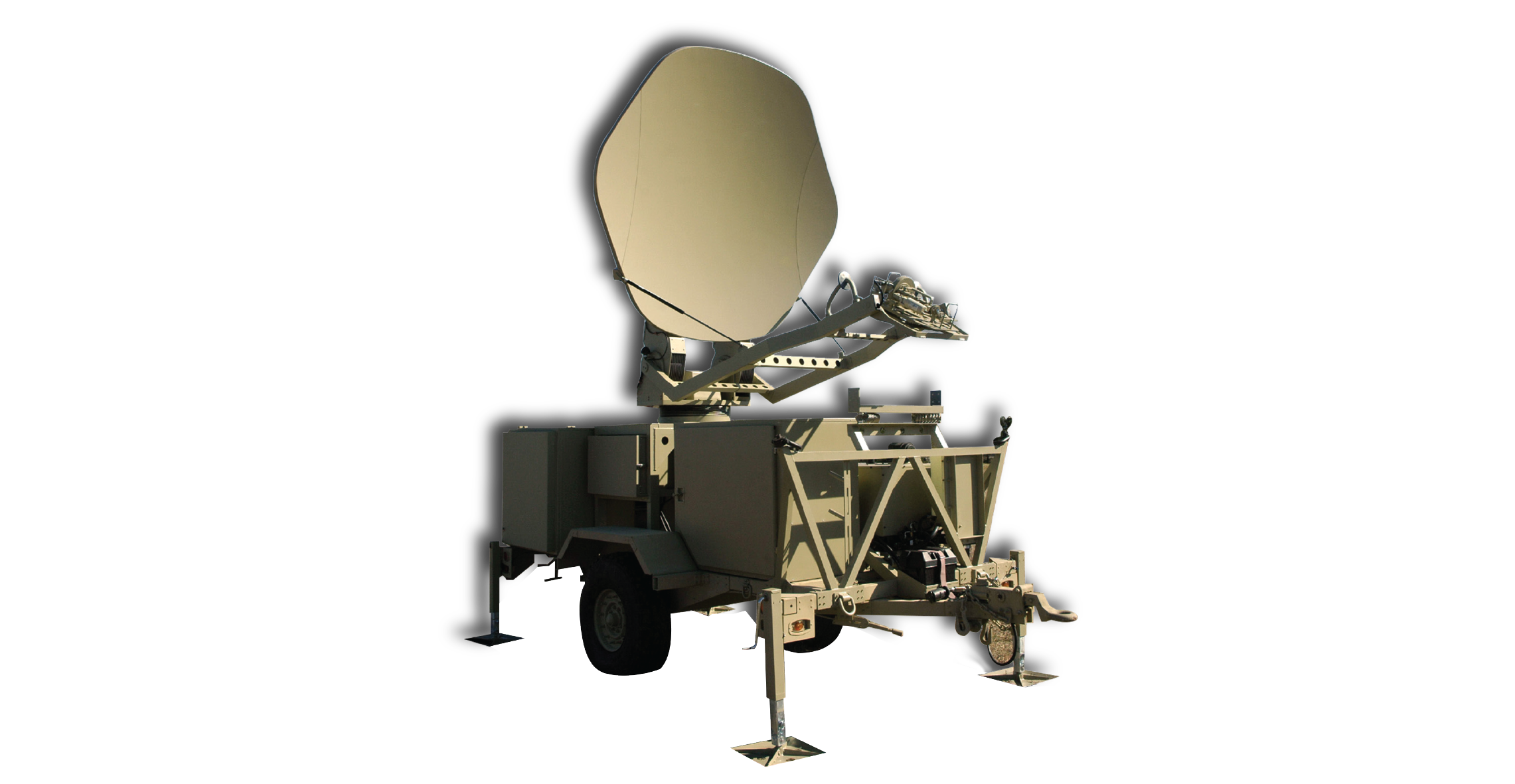 Transportable Satcom Terminal/Trailer
Transportable Satcom Terminal
Trailer  based,  does  not require dedicated vehicle
2.4 meters C-Band Satcom Antenna with auto acquisition using GPS + Fluxgate compass
Completely   self-contained   communication terminal e/w genset fuel tank and environmentally controlled equipment enclosure
Battlefield proven design, already deployed in Iraq & Afghanistan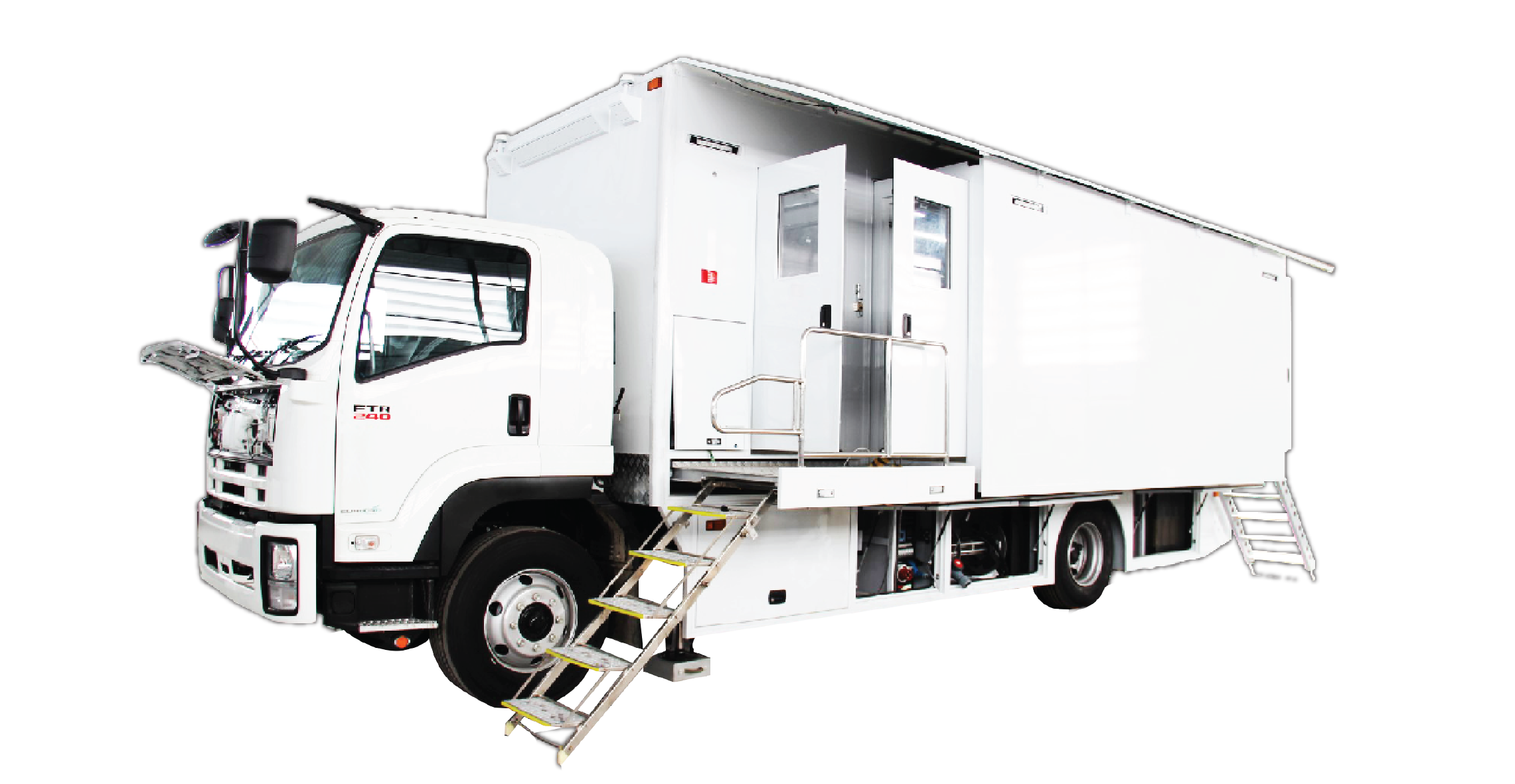 Outside Broadcasting Van
Long Wheel Base 6-10 Wheel Truck or Trailer with Stabilizers
Up to 20 cameras system support
Expanding sides for additional internal space
Mobile television control room
Equipment with a video switcher, intercom, graphic, audio, recorder/play backs and all the engineering equipment required to maintain a quality signal
Divide each space is clear and easy to operate; Production Area, Audio Areas, Video control and Transmission
Separate power network for security
Automatic leveling system
Customized   rack   and   technical  furniture consoles
Satcom On The Move
Always-On & Seamless Connectivity
Low profile, attractive design
IPStar approved
Reliable Communication
Nationwide Coverage with IPStar Satellite
IP Compatible
Flexible Bandwidth Usage
Easy Installation & Simple Operation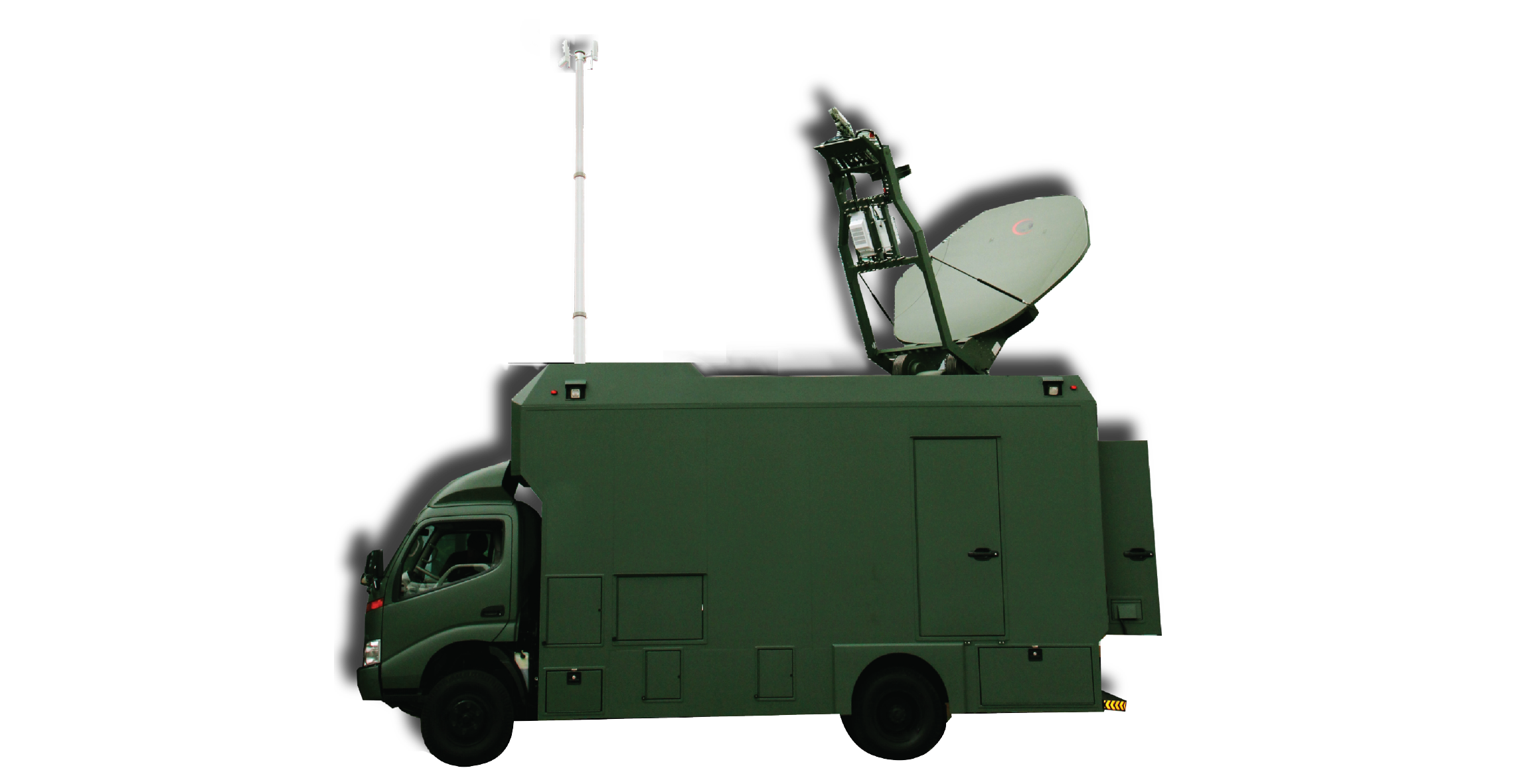 Large Wireless Mobile Vehicle
Long Wheel Base  6  Wheel Truck 15 Ton with Stabilizers
24 KVA  Electrical  Power Generator with sound proof enclosure
Satellite C-Band  Tx/Rx System with 2.4 meters Antenna, BUC, LNB and Modem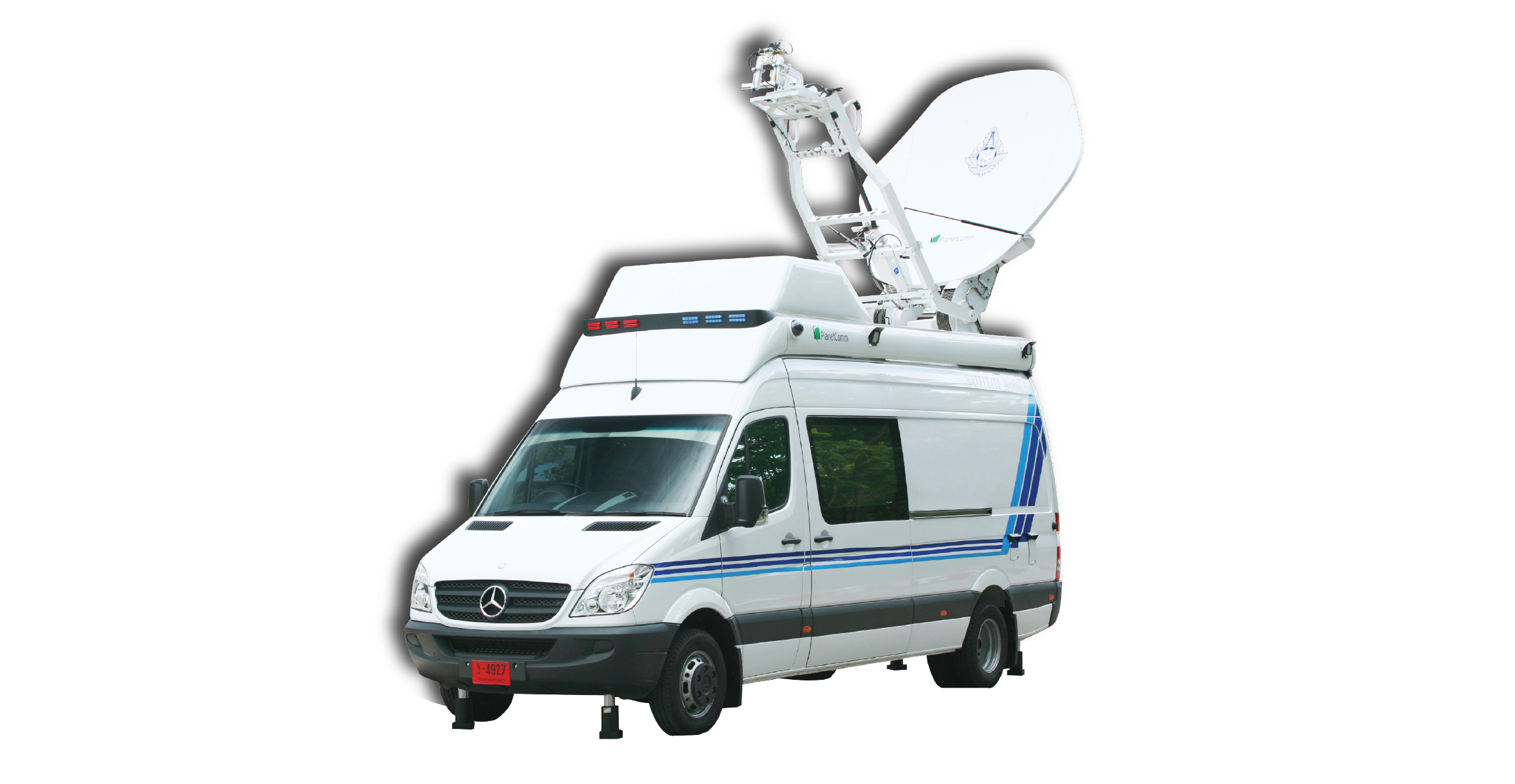 Medium Wireless Mobile Vehicle
Long Wheel Base VAN (Mercedes Benz Sprinter) with 4X2 Wheel Base, 5 Ton Load, 2400 cc. with Stabilizers
10 KVA Electrical Power Generator with sound-proof enclosure
Air-Conditioning
Satellite C-Band Tx/Rx System with 2.4 meters Antenna, BUC, LNB and Modem
Point to Point Broadband Wireless Access
Wi-Fi Access Point – 802.11n
Radio  Interconnect  System  with VHF/HF/Trunk Radio, GSM, VoIP, Satcom, etc.
Video Conference System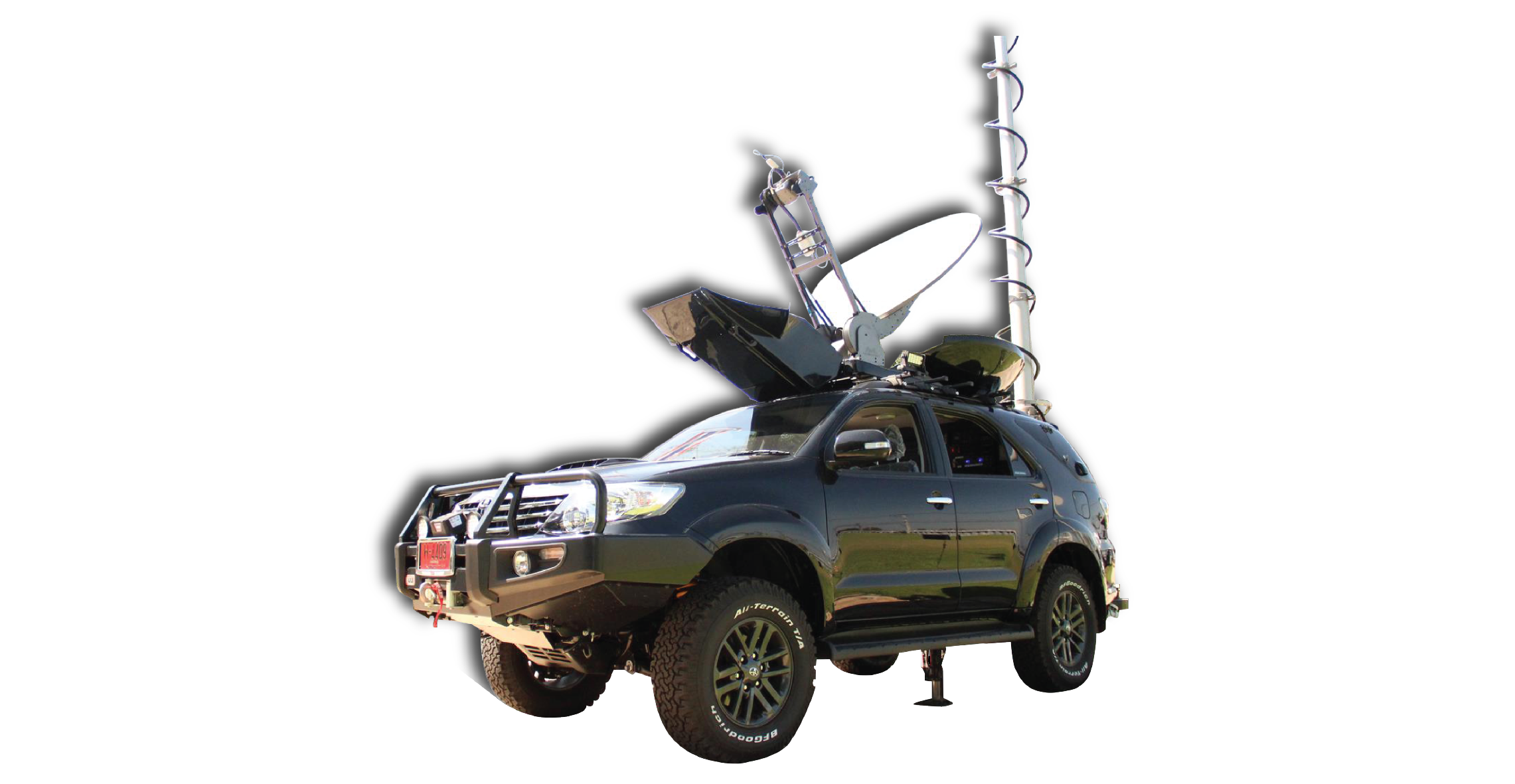 Small Wireless Mobile Vehicle
4X2 Wheel Drive, Toyota Fortuner
Stabilizers
Satellite Ku-Band Tx/Rx System with 1.2 meters Antenna, BUC, LNB and Modem
Point to Point Broadband Wireless Access
Wi-Fi Access Point – 802.11n
Radio Interconnect System with VHF/HF/Trunk  Radio, GSM, VoIP, Satcom etc
Video Conference System