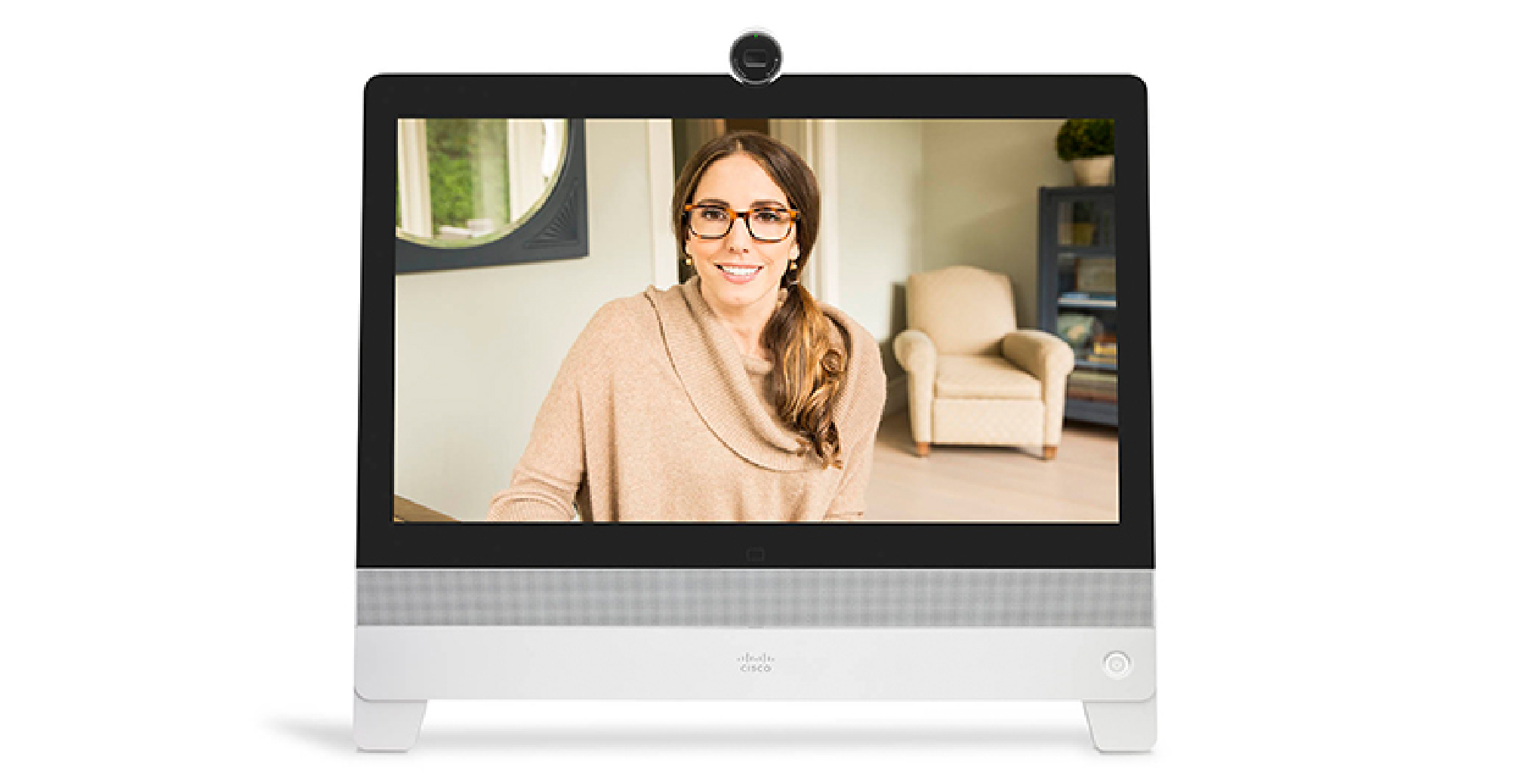 Discover a delightful new approach to working that is simple-to-use and offers a no-compromise collaboration experience. Upgrade your desktop with a virtual collaboration experience so stunning you will feel as though you and other participants are in the same room. Say goodbye to desktop clutter with a sleek Cisco Webex DX80. Say hello to all-in-one desktop collaboration featuring High-Definition (HD) video, unified communications features, a display for your laptop, and expanded capabilities. The Webex DX80 offers:
A dedicated, always-on HD video communication system
An IP phone that provides essential features for knowledge workers
A high-quality audio system for speakerphone
A 23-inch 16:9 screen that provides an engaging experience for video calls
A multitouch capacitive touchscreen that provides an elegant and powerful user interface
A self-provisioning device that is simple for users to take out of the box and start using quickly
Easy "One-Button-To-Push" (OBTP) calling that integrates with common calendaring programs
Flexible registration models on-premises and in the cloud through Cisco Webex
Ability for administrators to use Cisco Expressway™ Series for the secure connection of their remote workers
Whiteboard and annotation
Create whiteboard content and annotate on shared content.
Share and collaborate on whiteboard content with meeting participants on the Cisco Webex Board, or Cisco Webex Teams app.
Meeting participants using the Cisco Webex Room Series will see shared whiteboards as content on-screen and edit content on their paired Cisco Webex Teams app. Cisco SX Series and Cisco MX Series will get a notification of shared whiteboards on-screen and can view shared whiteboard content and edit content on their paired Cisco Webex Teams app.
Supported on Cisco Webex-registered devices only.
Design features
Ability to install in minutes: The Webex DX80 is an integrated device with fully touch-based on-screen controls. Just plug in the power cable and network. Get started with a simple set-up wizard. Authenticate to complete the setup.
In-person video: With a large 23-inch screen and best-in-class video and audio capabilities, the Webex DX80 allows for life-like experiences.
Top-notch monitor: You can use the Webex DX80 as an external monitor when plugged into a laptop. It has a high-contrast LED panel with a wide viewing angle and a full touch surface.
Document camera: You can tilt the camera located on top of the Webex DX80 down to allow sharing of physical content and drawings.
Inclinable screen: The Webex DX80 accommodates users who want to sit and use it at a reclined angle to type or draw at their desk comfortably. You can easily pull the device toward yourself; it reclines to a 40° angle to the table.
Automatic wake-up: The collaboration system automatically detects when someone enters the room. It "wakes-up," says hello and provides guided instructions to make it effortless to start using the device.
Inclinable screen
Share multimedia and presentations at the touch of a button: While on a call, you can see the laptop screen and share it instantly in full HD with the on-screen control bar.
Enjoy the easy on-screen control interface accessible with a single tap on the screen.
Performance features
The system offers simultaneous HD video and content sharing.
Audio is communicated through full-duplex, full-band audio (CD quality).
Provisioning and configuration are easy with Cisco Unified Communications Manager or with Cisco TelePresence® Video Communication Server (VCS) and Management Suite (TMS).
Registration models
The Webex DX80 registers to Cisco VCS and Session Initiation Protocol (SIP)-based call controls, Cisco Unified Communications Manager, and the Cisco Hosted Collaboration Solution (HCS) and to Cisco Webex.