Cisco Webex Room Panorama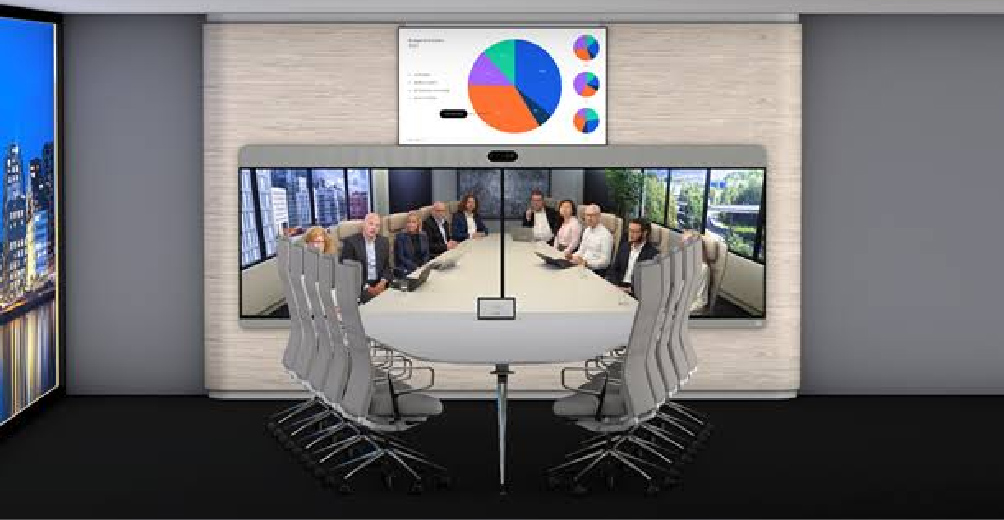 Cisco Webex Room Panorama is a new first-class collaboration system built for the modern C-suite. The Room Panorama provides immersive video experience, rich content sharing, and co-creation experience within the Cisco Webex Room Series portfolio. These fully integrated systems combine beautiful design and powerful functionality into an all-in-one solution for medium-to-large rooms. The Room Panorama features a powerful engine to build more complex and specialized video scenarios. Room Panorama will transform your meeting spaces into a video collaboration hub—whether for connecting teams across the world or for local meetings.
The Room Panorama will be shipped as a complete technology package from Cisco (Figure 1). This includes everything you need to make it operational, including:
Two Samsung 82-inch 8K QLED displays for video and one Samsung 65-inch 4K display for presentations
Codec and four 5K cameras at 60 frames per second (fps)
Touch 10 controller
12-loudspeaker system with directional audio capabilities
4 bass modules
Cooling system
Audio amplifier
Complete power system
3 table microphones
Presentation cables
Wall structure. The customer can design their own wall finish to match the existing room, or they can buy the Cisco wall finish in light oak as an option.
Cisco Webex Room Panorama delivers the industry-leading video and audio experience customers have come to expect from Cisco. In addition, new capabilities enable even smarter meetings, smarter presentation capabilities, and smarter room and device integrations, further removing the barriers to usage and deployment of video in large-sized rooms. The Room Panorama is built on the powerful Cisco Webex Room Kit Pro technology platform. This means there are more inputs and outputs to cover more meeting scenarios and larger rooms. The Room Panorama now offers more power and flexibility to build custom and more specialized video conference rooms than ever before.
The Room Panorama—comprising a powerful codec, a Cisco Quad Camera, dual 82-inch 8K video displays, and a 65-inch 4K presentation display—is ideal for rooms that seat up to 14 people. It offers sophisticated camera technologies that bring panorama video, speaker-tracking, and auto-framing capabilities to medium- to large-sized rooms. The product is rich in functionality and experience and designed to be easily scalable to all your large conference rooms and spaces, whether registered on the premises or to Cisco Webex through the Cisco Collaboration Cloud.
Design
One of the most powerful and feature-rich video systems available with the ultimate in video and audio quality
Next-generation UHD (4K) video collaboration codec
Next-generation HD fully automatic camera
Everything you need is included (screens, speakers, codec, camera, touch user interface, microphones, mounting)
Blends into your meeting room; choose your own finish of the wall or buy the Cisco wall finish option
Standards-compliant 1080p and 2160p solution – compatible with standards-based video without losing features
Smart Meetings
Brings intelligent views to medium- to large-sized rooms with discreet, integrated cameras

Panorama video: Using multiple camera lenses together to create a wide panorama view
Best overview: Automatically detects meeting participants and provides ideal framing
Speaker tracking: Detects and switches between active speakers and provides ideal framing

Great audio experience with integrated speakers and external microphones
Automatic wake-up: System "wakes up" when someone walks into the room, and recognizes them through their mobile device
Easily controlled by the Cisco Touch 10 or with a Cisco Webex Teams app-enabled device
Supports switched conferencing for enhanced layouts and enables video on multiple screens
Participate in Webex Teams white-boarding sessions from the Webex Teams app; receive on-screen notification of shared white board content (supported on cloud-registered devices)
HD collaboration with 1080p60 video and 2160p15 content
Simplified meeting-join experience with One Button To Push (OBTP)
Smart presentations
Supports up to three screens for video and content
Supports triple content sources for local meetings
4K content sharing (local 30 fps; remote 15 fps)
Wired or wireless content sharing (supports Cisco Intelligent Proximity for content sharing to mobile devices and wireless sharing from Macs and PCs
Blends into your meeting room; choose your own finish of the wall or buy the Cisco wall finish option
Standards-compliant 1080p and 2160p solution – compatible with standards-based video without losing features
Smart integrations
Metrics: Counts people in the room, enabling analytics for better resource planning
Supports Wi-Fi
Easily control room peripherals such as lights, room dividers, and curtains, directly from the Cisco Touch 10 control unit through customizable APIs (requires external third-party control system processor)
Performance
Optimal definition up to 1080p60
H.323/SIP up to 20 Mbps point to point
6 simultaneous video inputs – three 4K and three full HD
Connect up to 8 microphones directly to the codec or use the Cisco Stereo Table mic, connected to an Ethernet switch
Full duplex audio with high-quality stereo sound
Full Application Programming Interfaces (APIs)
Cisco Media Assure packet loss protection (Cisco ClearPath also supported)
Built For Cloud And Premises
Flexibility to register on the premises or to the cloud through Webex
Hardware is optimized to run on a cloud platform for great experiences in shared rooms and spaces, with easy access to hosted conferences