Cambium Networks cnReach SCADA Solutions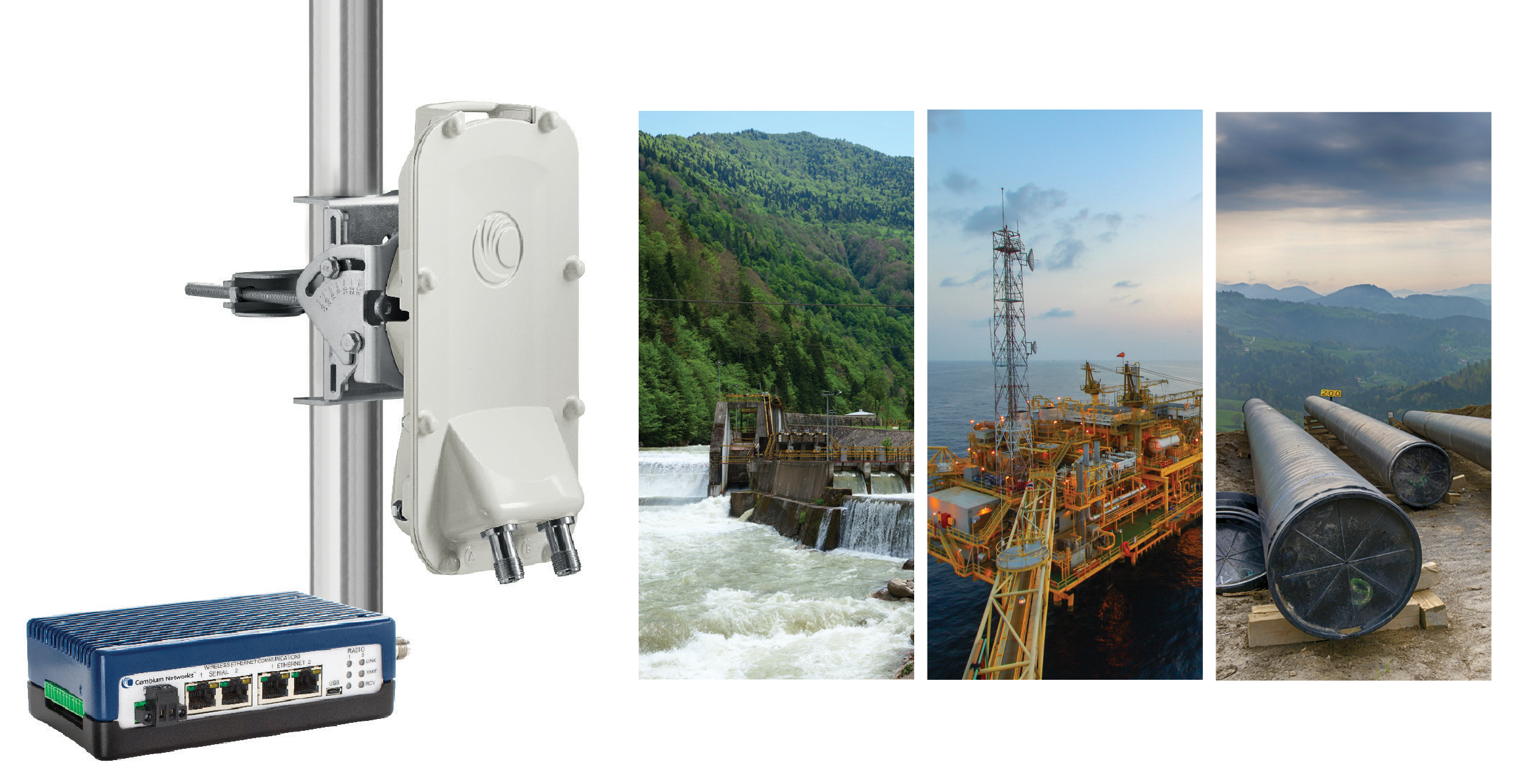 Industrial Internet of Things Platform
SCADA Process Control and Monitoring: cnReach provides affordable narrowband wireless connectivity supporting distribution automation, next-generation field area networks, and SCADA telemetry. Unlock the potential of M2M technology, SCADA communications, and the ever-growing number of value-boosting applications possible with the Industrial Internet of Things.
High-Resiliency IIoT Wireless Communications, Bringing The Promise of a Connected World to Life
Communications infrastructure is the key to enabling IIot. Repidly deployable wireless architecture can cover range up to 245 kilometers with end-to-end connectivity for Cloud-based applications. Our experience across multiple industrial markets ensures that each solution interoperates with field equipment and operations support systems to deliver results that transform your business.
The Industrial Internet of Things (IIoT) Promise is delivery of real-time monitoring, control, measurement, and analytics that optimize performance while establishing  sustainable competitive advantage. IIoT's true potential will be realized by the transformation of accumulated and real-time data into insightful knowledge and critical actions, which demands highly reliable underlying communications infrastructure and resilient systems that interconnect sensors and controls across large-scale field area networks.
Without end-to-end communications, valuable data is stranded, isolated by even short distances. Cambium Networks' proven wireless solutions can surpass the limitations of fiber or wired systems, providing connectivity from the field meter to the operation center – in an affordable, ruggedized, sustainable platform that offers rapid deployment, reliability, and security – with an attractive return on investment.
Smart Metering, substation switch and circuit control, SCADA telemetry, remote office connectivity, video surveillance, and asset tracking are all vital wireless connectivity functions that can be consolidated into one cost-effective IP network. Wireless solutions are optimal for mission critical applications because fiber isn't everywhere, and 3G/4G data services offer fewer essential features at a higher cost.
cnReach serial radio Features Distribution Automation for Narrowband Wireless, SCADA and Critical Infrastructures
Frequency: Available in 220, 450, 700 and 900 MHz licensed and unlicensed bands.
Scalability: Access point synchronization and adaptive modulation.
Interface: Extensive I/O with two Ethernet ports, two Serial ports and built-in general purpose analog/digital interfaces.
Security: Built-in 128/256-bit AES encryption and secure management interfaces (HTTPS, SNMPv3).
Deployment Flexibility: PTP, PMP and Relay configurations all with the same module. Dual radio option for unique back-to-back repeater functionality.
Management: Plan and manage the entire wireless sensor network with LINKPlanner and cnMaestro.
Simplify migration to all-IP Networks
cnReach assists operators in migrating to secure, efficient and scalable all-IP networks in a step-by-step fashion by supporting simultaneous serial/IP communications.
Reduce operating costs
With cnReach, enterprises can monitor network performance, respond to alarms, and push configuration changes from cnMaestro's centralized management interface – which works with all Cambium products to deliver these capabilities via a single pane of glass.
Maximize Use of Scarce Spectrum
With access point synchronization, adaptive modulation and many other routing/filtering features, owners of licensed spectrum can optimize spectrum use.
Alignment to IoT Initiatives
Enterprises are looking to capitalize on new analytics that promote efficiency and proactive maintenance. These initiatives require data from both more sensors and more frequent polling, which relies on M2M technology and SCADA communication. cnReach provides the capacity and scalability to support Industrial Internet of Things platforms that meet the new demands for more data.