DMD-2050E MIL-STD-188-165A/STANAG 4486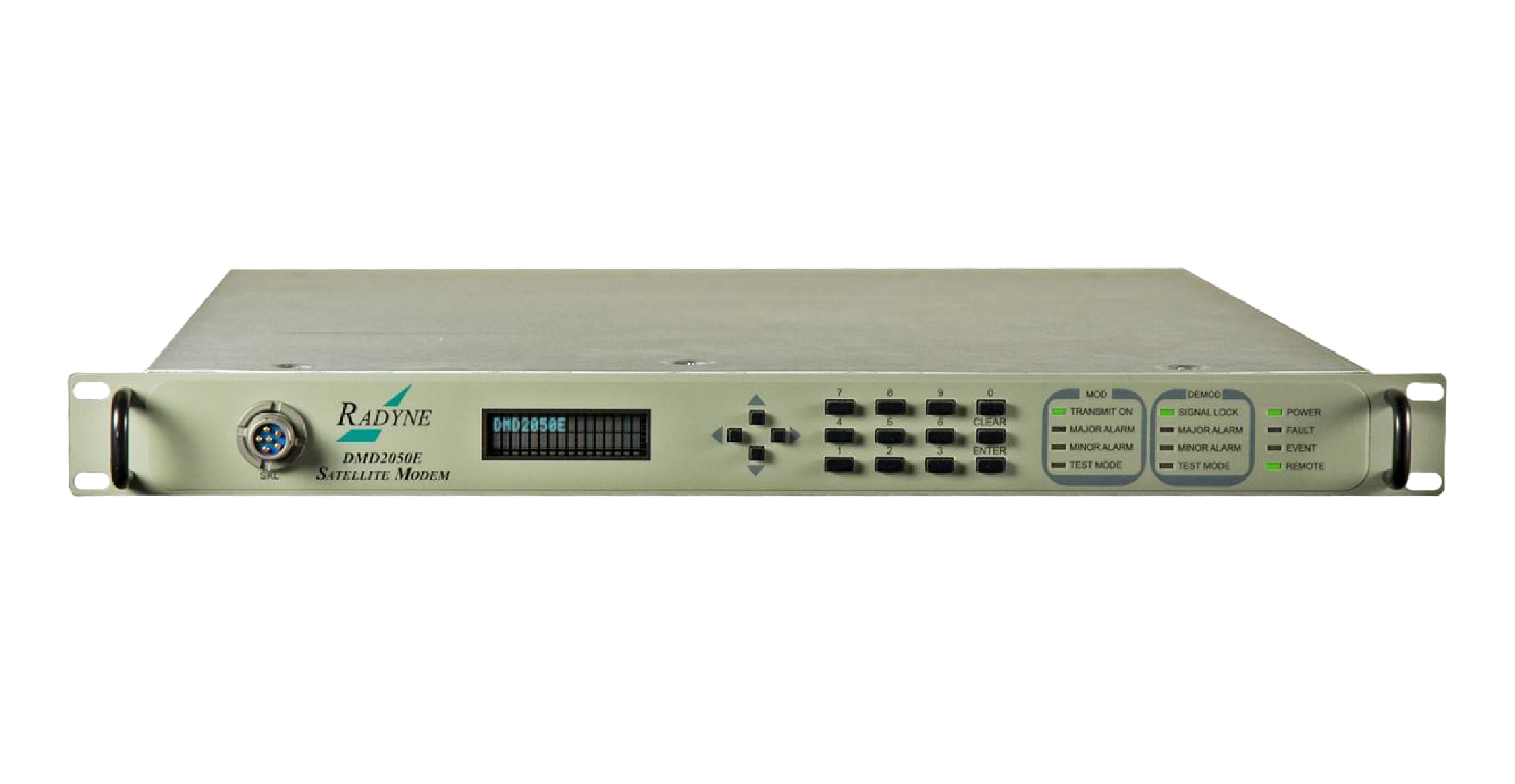 The DMD2050E Satellite Modem is designed to comply with the widest possible range of U.S. Government and commercial standards and is compatible with the largest number of satellite modems in the industry. It is fully compliant with MIL-STD-188-165A (all terminal types), fully complies with STANAG 4486 Edition 3, as well as the IESS-308, IESS-309, IESS-310 & IESS–315 commercial standards.
The DMD2050E provides highly advanced and bandwidth efficient forward error correction (FEC). Advanced FEC options include Low Density Parity Check (LDPC), Turbo Product Codes (TPCs) and 165B Turbo Codes. Legacy support for Viterbi, Trellis, Concatenated Viterbi Reed-Solomon, and Sequential FEC are also included. A complete range of modulation types is supported including BPSK, QPSK, OQPSK, 8PSK, 8-QAM, 16-QAM and 16APSK.
Advanced FEC and modulation capabilities are integrated with the revolutionary DoubleTalkⓇ Carrier-in-CarrierⓇ bandwidth compression allowing for maximum state-of-the-art performance under all conditions. This combination of advanced technologies enables multidimensional optimization, allowing satellite communications users to:
Minimize required satellite bandwidth
Maximize throughput without using additional transponder resources
Maximize availability (margin) without using additional transponder resources
Enable use of a smaller BUC/HPA and/or antenna
Or, a combination of the above to meet specific mission needs
Standards Compliance:

MIL-STD-188-165A (all modes)
STANAG 4486 Edition 3
OM-73
IESS-308/309/310/314/315

Standard Data Interfaces

MIL-STD-188-114 (EIA-530)
EIA-613 (HSSI)
Ethernet 10/100/1000Base-T (GigE)

Serial / Ethernet multiplexing capability
AES-256 TRANSEC, FIPS-140-2 L2 certified
Key Loader Interface
Ethernet Flow Control & Quality of Service (QoS)
Integrated DoubleTalk Carrier-in-Carrier
LDPC, TPC, 165B Turbo, Viterbi, Reed Solomon, Trellis & Sequential FEC
FEC rates 1/1, 5/16, 1/2, 2/3, 3/4, 7/8, 19/20 and others
BPSK, QPSK, OQPSK, 8PSK, 8-QAM, 16-QAM, 16APSK
Information Throughput Adaption (ITA)
2.4 kbps to 52 Mbps
70 ± 18 MHz and 140 ± 36 MHz IF, and 950 – 2000 MHz L-Band in 1 Hz steps
DC input power -48 VDC option
High-stability reference
Asynchronous overhead
Automatic Uplink Power Control
Common Applications
Communications at-the-Pause
Flyaway Communications
Integrated Satellite Terminal Communications