NovelSat NS3000
Professional High-Data Rate Satellite Modem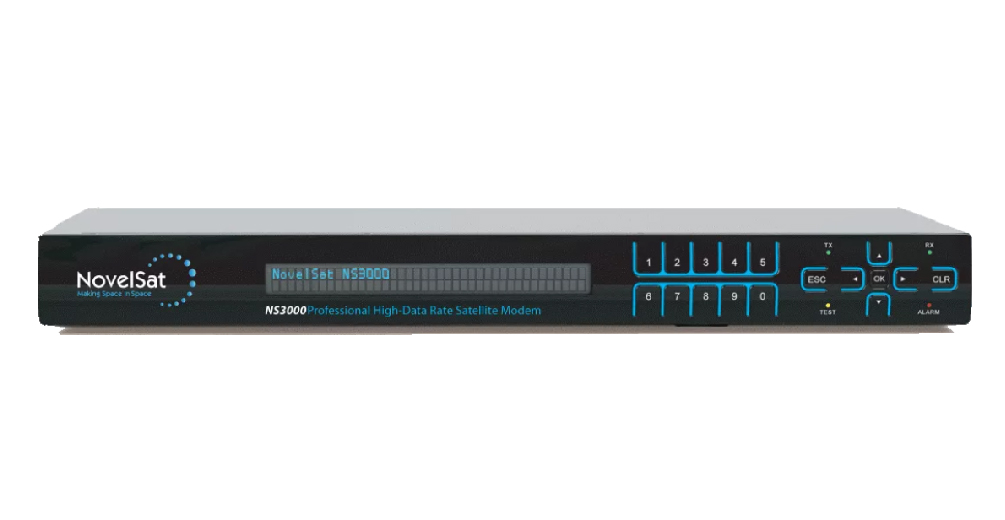 The NovelSat NS3000 Professional High-Data Rate Satellite Modem is the world's fastest, most bandwidth-efficient satellite modem. This translates into marked cost reduction for both point-to-point and point-to-multi point data, video and mixed data/video applications. The NS3000 Modem delivers data transmission rates of up to 425Mbps in each direction using a single modem. The NS3000 is a member of the NovelSat Professional Satellite Modem series which also includes the NovelSat NS300
Technology
Powered by optional NovelSat NS4 satellite waveform and NovelSat DUET CeC echo cancellation technology, the NS3000 satellite modem outperforms industry standard DVB-S2 by more than 100%, delivering more video and data over available bandwidth – up to 425 Mbps per channel and 850 Mbps bidirectional streams over a single modem. The NovelSat NS3000 boosts profitability by using the spectrum more efficiently and incorporating techniques to boost resilience against channel impairment including interference, satellite jamming and weather fluctuations.
The NovelSat NS3000 incorporates both the NovelSat NS1000 Modulator and NS2000 Demodulator in a single unit, offering advanced packet processing, routing capabilities and TCP acceleration and compression for IP packet streams. For ISPs seeking satellite cost reduction, the NS3000 delivers an ideal solution by combining outstanding data transmission rates with minimal bandwidth requirements, providing reliable and cost-effective satellite data links where lack of infrastructure and challenging geography make terrestrial links impractical.
Built with the highest quality components and processing power, the NS3000 passes a rigorous regimen of over 10,000 automatic tests, ensuring reliability that's second to none.
NovelSat NS4 technology
Scalable from 100Kbps to 850Mbps (bidirectional 425Mbps) with built-in NovelSat DUET CeC (Channel-Echo-Cancellation)
10-15dB stronger jamming immunity
Up to 80Msymbols/sec
Optimized ACM mode
NovelSat DDC – Dynamic Distortion Compensator (non-linear processing mode for saturated signals)
IP routing/switching/bridging capabilities
Advanced QoS
NSPE IP Encapsulation
DVB-S2 (EN 302 307) compliant
DVB-S, DSNG (EN300-421, EN301-210) transmission compliant
QPSK, 8PSK, 16APSK, 32APSK, 64APSK
Extended L-Band 950MHz-2150MHz
L-Band monitoring output
Gigabit Ethernet, E1/T1, ASI interfaces
24V/48V integrated BUC feeder
Supports N+1 redundancy
Carrier ID (CID) compatible
Secured transmission