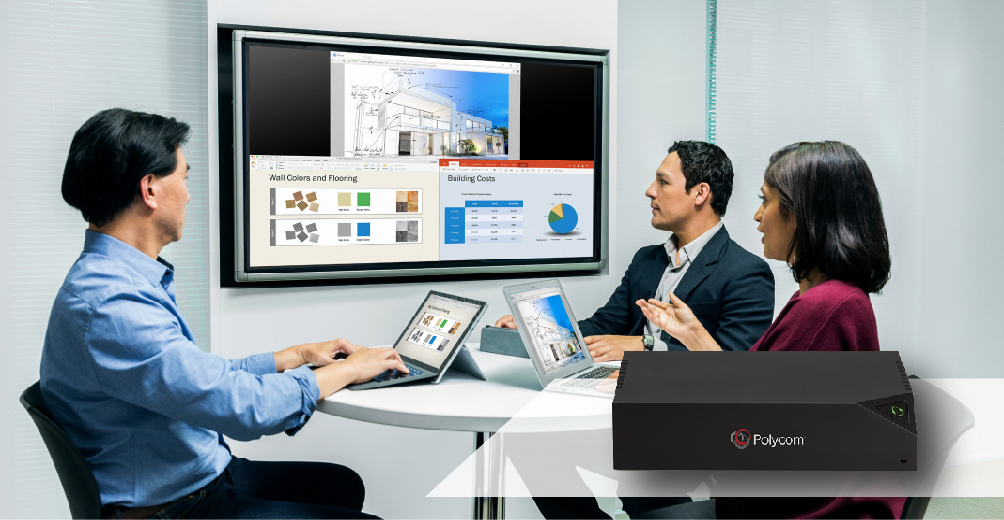 Energize Your Meetings and Inspire Ideas with Poly Pano
Share presentations exactly the way you want, whether it's from your laptop, tablet, or mobile device. From the moment you walk into a meeting room, Pano lets you connect with a quick touch, requiring no special apps or cables. Connect Pano to any monitor and simultaneously stream up to four sources of content and collaborate through screen sharing, whiteboarding, and annotating. And just imagine every meeting room, huddle space and social area transforming into a creative hub with the help of Pano.
Benefits
Connect fast and easily from any laptop, tablet or phone
Get a holistic view of your work by sharing up to four screens simultaneously in stunning HD resolution
Emphasize your key points with exclusive magic highlighter*
Capture and save your best thoughts using infinite whiteboard canvas*
Play multiple high-res content streams up to 60 fps
Web and Poly RealPresence Resource Management enabled for easy and secure device management
Create, connect and share content and ideas easily
After spending countless hours creating an amazing presentation using the perfect font and pictures it is now time to present to the group. You find out that the meeting host does not have the same font installed or the right adaptor for you to use with your own device.
It's time for a different approach. It's time for Poly Pano, the easiest way to share content.
Create
You create content on the devices you feel most comfortable with, from a PC, MAC, tablet or other mobile devices. You have your fonts, images and videos all on your device to create the absolute best presentations.
Connect
With Poly Pano, connecting your PC, tablet or phone is simple and familiar. When you first enter a Poly Pano-enabled room, an on-screen guide walks you through the connection process. Connect using the tools you already know such as Apple Airplay or Windows Miracast for wireless flexibility or a trusty HDMI connection for wireline simplicity.
Simplicity in your organization.
You need end-user collaboration, but you don't need yet another complex product that is hard to setup, hard to maintain or that creates unnecessary help tickets. Poly Pano connects to virtually any display through a standard HDMI output or select touch displays for a fully interactive experience.
Share
You can easily share your ideas, apps or your active screen. Sharing has never been simpler. With Poly Pano, sharing is no longer just content delivery, it's a forum for many people and ideas to come together in a single place. Poly Pano allows multiple users to connect and up to four sources to be displayed simultaneously. By comparing information side-by-side, work teams will experience greater collaboration enabling better and quicker decisions. Poly Pano also allows presenters to communicate their stories more effectively by providing content interaction and annotation when used with a compatible touch monitor. Users can share their screens, highlight key points with the magic highlighter, or draw on an infinite whiteboard to drive attention and focus.
Remark
*Requires touch screen monitor. Sold separately.