SmartNode 4110 Multi-Port FXS/FXO
VoIP Gateways
SN4110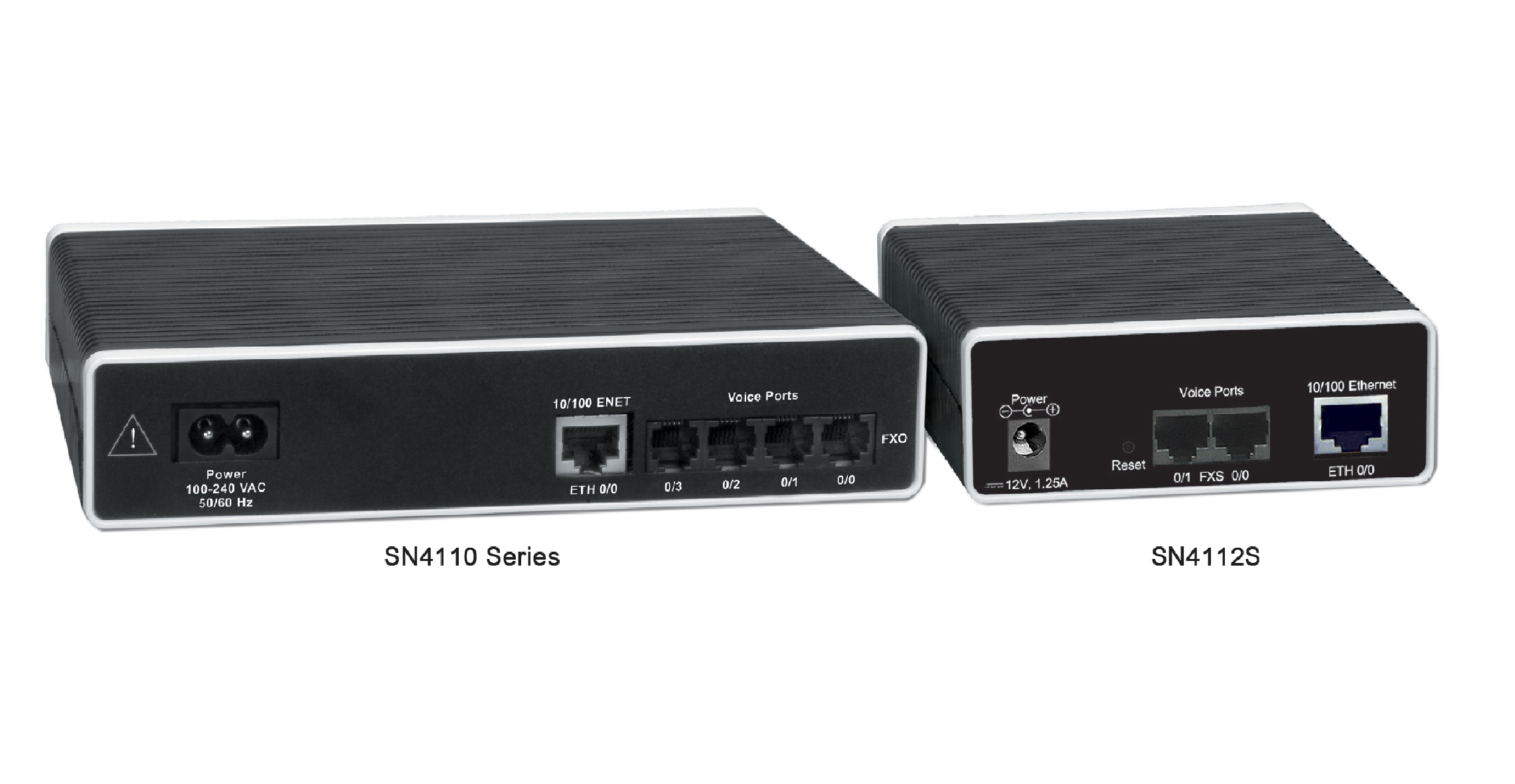 The SmartNode 4110 Series VoIP Media Gateway supports up to eight transparent phone calls while leveraging VoIP for lower-cost carrier and corporate access. Connecting to any analog phone, fax, or PBX, the SN4110 Series is an effective and flexible solution for toll-bypass, remote/branch office voice connectivity, and enhanced carrier services.
The SN4110 Series is the perfect choice for phone-to-IP connectivity supporting up to 8 FXS ports or a combination of 4 FXS and 2 or 4 FXO ports. With its FXS analog ports, the SN4112S connects to any legacy telephone or PBX and provides dialtone, ringing, and caller-ID. When equipped with FXO ports, the local PSTN can be accessed enabling local calling and enhanced toll-bypass applications while using a single connected telephone. Flexible call integration allows per-port telephone numbers, programmable call progress tones, and distinctive ringing. With Telephonyover-IP (ToIP) call switching, calls can automatically select the least-cost-route while providing flexible numbering plans and end-to-end feature transparency. PPPoE, DHCP, and VLAN offers universal IP connectivity and optional IPsec VPN with AES/3DES guarantees secure voice over the public network.
Patton's SmartNode SN4110 Series delivers the legacy phone interfaces, service transparency, and flexible PSTN integration required for true converged packet voice.
Up to 8 FXS and/or FXO ports
Compact, reliable stand-alone VoIP gateway with different port options. Supports simultaneous voice or fax calls on all ports.
Advanced Local Call Switching
Virtual interfaces and routing tables provide industry leading flexibility in call handling programming. Local call switching, soft fallback to alternative routes. Simultaneously connects to multiple SIP services/IP PBXs.
Complete SIP and T.38 support
Supports the complete range of industry standard VoIP: SIP, H.323, T.38 fax, fax and modem handling, DTMF relay. Codecs G.729, G.723, etc.
Easy Management & Provisioning
Web-based management, SNMP, command line interface. Automated mass provisioning for efficient large-scale deployments.
Outstanding Interoperability
Proven integration for voice and T.38 fax with 3CX®, Asterisk™, PingTel™ and other leading IP PBX systems and soft switch vendors.