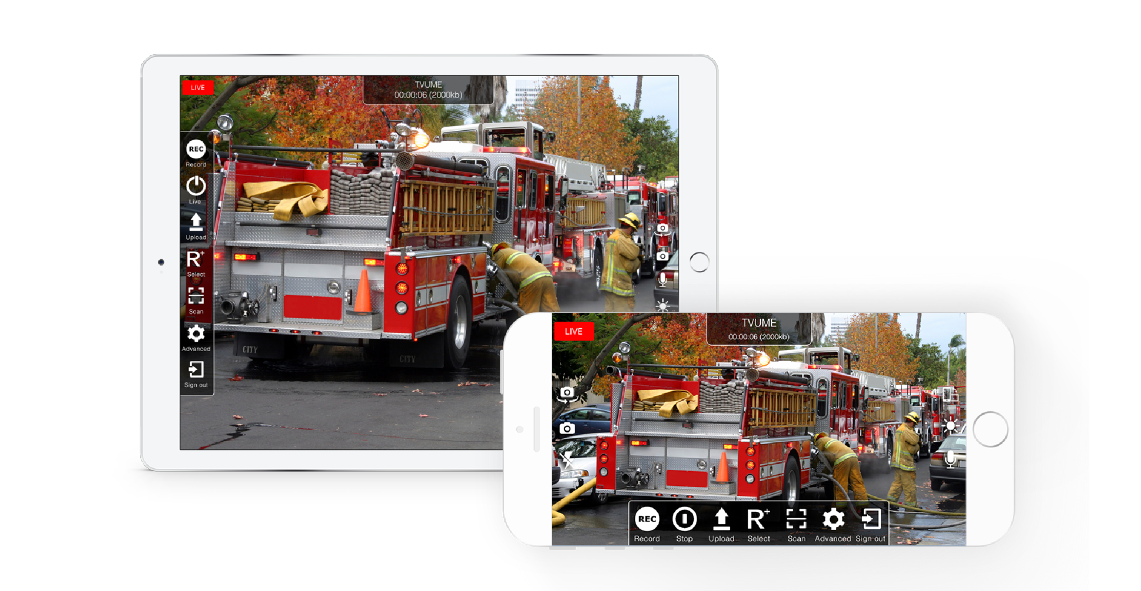 Turn your phone, tablet or laptop instantly into a transmitter capable of streaming high quality live video often associated with professional live video equipment. The TVU Anywhere app aggregates your device's cellular wireless connection and available WiFi to transmit live video through a TVU receiver. Anywhere also features TVU's Inverse StatMux Plus technology for outstanding picture quality. The TVU Anywhere app is available for iOS, OS and Android devices.
User-friendly Interface – Go live, monitor and control the transmission from an easy-to-use interface. Choose an optimal resolution and frame rate, automatically focus the camera or use the flash for nighttime transmissions. Key status information such as real-time transmission rate and live streaming time are provided.
Remote Pan-and-Zoom – A remote operator in a studio can control the camera's focus and brightness and also pan-and zoom without intervention from the device user in the field. This provides unprecedented control over camera framing and exposure without degradation of HD picture quality.
Simultaneous Streaming and Recording – Live stream video from TVU Anywhere while enabling the recording of a full copy in the media directory of a smart device.
Integrated TVU Voice – Utilize integrated VoIP technology for two-way conversation between a TVU receiver at a studio and smart device in the field.
Support for DJI Devices – TVU Anywhere can be enabled for use with DJI drones and the DJI Osmo handheld camera.
Security – TVU Anywhere offers the option of enabling AES encryption.