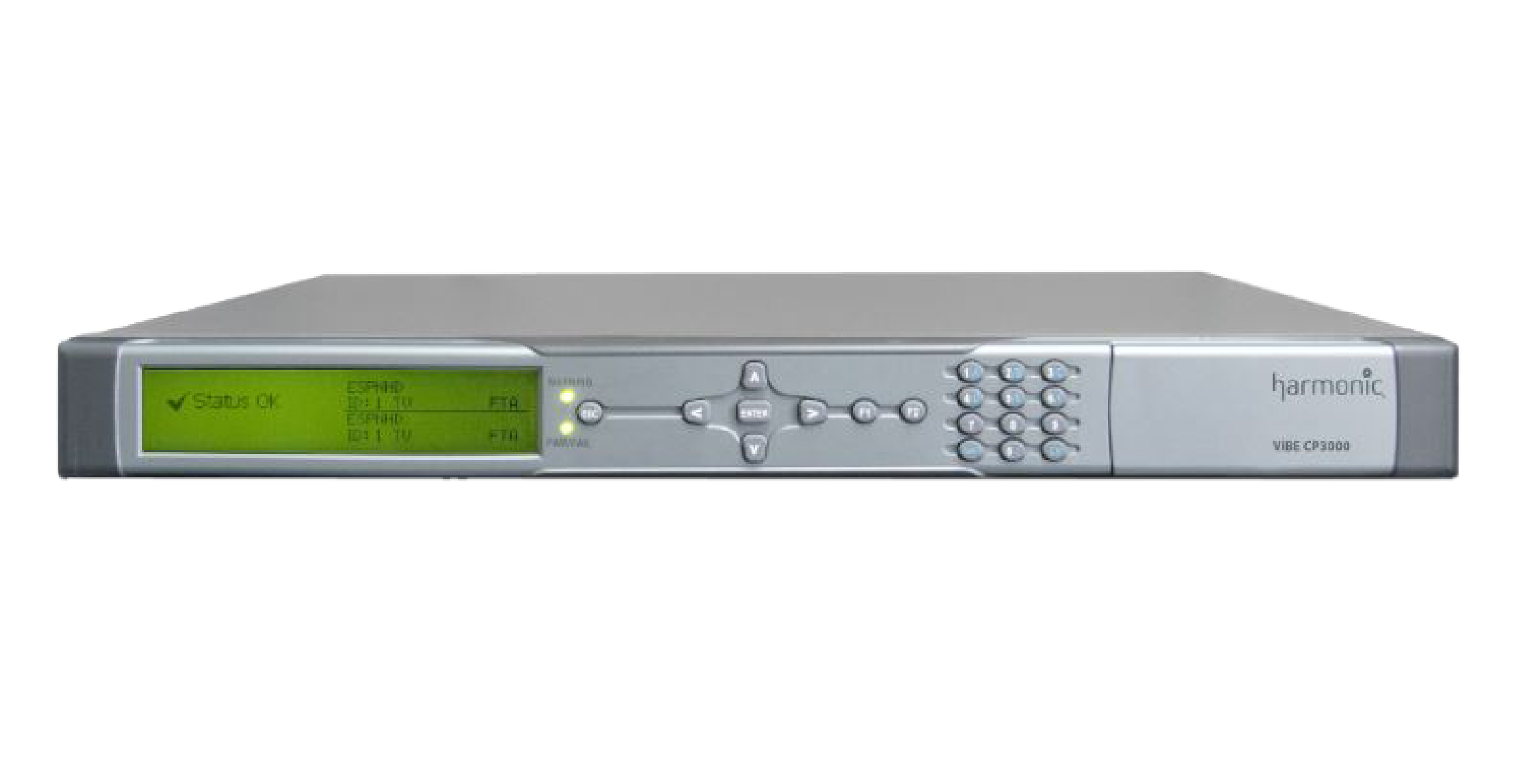 The industry's best value for high-end Digital Satellite News Gathering (DSNG) and live sports broadcasting applications, the Harmonic ViBE CP3000 (formerly Ellipse 3000) family of contribution encoders combines superior video quality, the highest level of function integration, and ease of use in an economical, compact package.
The innovative ViBE CP3000 product family includes the first DSNG encoder with an integrated broadcast satellite modulator that supports
the DVB-S2X and DVB-CID standards, as well as broadcast-quality video contribution over the Internet. The encoders leverage Harmonic's
industry-leading compression expertise and a flexible system architecture for all mission-critical contribution applications. Multi-format,
multi-codec versatility, low latency and optional integrated modulators make the ViBE compression platform ideal for both DSNG and fixed
contribution. A compact footprint and plug-and-play deployment deliver the additional benefit of low cost of ownership.
ViBE CP3000 encoders support all SD and HD MPEG-2 and MPEG-4 AVC codecs at 4:2:0 or 4:2:2 chroma subsampling and 8 or 10 bits.
Fully firmware upgradeable, the encoders offer a smooth and cost-effective migration path from MPEG-2 SD 4:2:0 8-bit to AVC HD 4:2:2
10-bit compression schemes, making them among the most versatile contribution encoders available. 3G SDI input enables encoding of HD
content at resolutions up to 1080p60.
At just 1 RU, compact and rugged ViBE CP3000 encoders are a perfect fit for DSNG vehicles, teleports and flyaway packages operating on
the C, Ku or Ka bands. Four models are available, assuring the deployment of systems precisely tailored to a user's application:
Fixed Contribution Over IP or Telco Networks
CP3100 – Features simultaneous IP and DVB-ASI outputs
CP3102 – Features simultaneous IP and DVB-ASI outputs, 3G SDI input, and optional dual power supplies
DSNG
CP3200 – Features simultaneous IP and DVB-ASI outputs, an integrated DVB-S/S2/DSNG broadcast satellite modulator with simultaneous DVB-ASI and L-band or IF output
CP3202 – Features 3G SDI input, simultaneous IP and DVB-ASI outputs, an integrated broadcast satellite modulator with DVB-S/ S2/S2X and DVB-CID support on top of NIT-CID, IF and L-band interfaces on the same board, simultaneous L-band, IF and DVB-ASI output, and optional dual power supplies
MPEG-2 and MPEG-4 AVC SD/HD 4:2:0/4:2:2 8/10-bit encoding
Broad SD/HD format support, up to 1080p60
Audio encoding of up to eight stereo or 16 mono channels
Optional integrated broadcast satellite modulator supporting DVB-S/S2/ S2X and DVB-CID on top of NIT-CID; roll-off factor up to 5%
Broadcast-quality video contribution over the Internet
Simultaneous RF, IP and DVB-ASI outputs
IF and RF interfaces on the same chassis
Choice of single or dual power supplies
Ultra-low delay mode
User-friendly front-panel controls or web-based management
BISS scrambling
1:1 stand-alone redundancy
Fast boot time
Pay-as-you-grow scalability