Durostream AHA723 & AHA725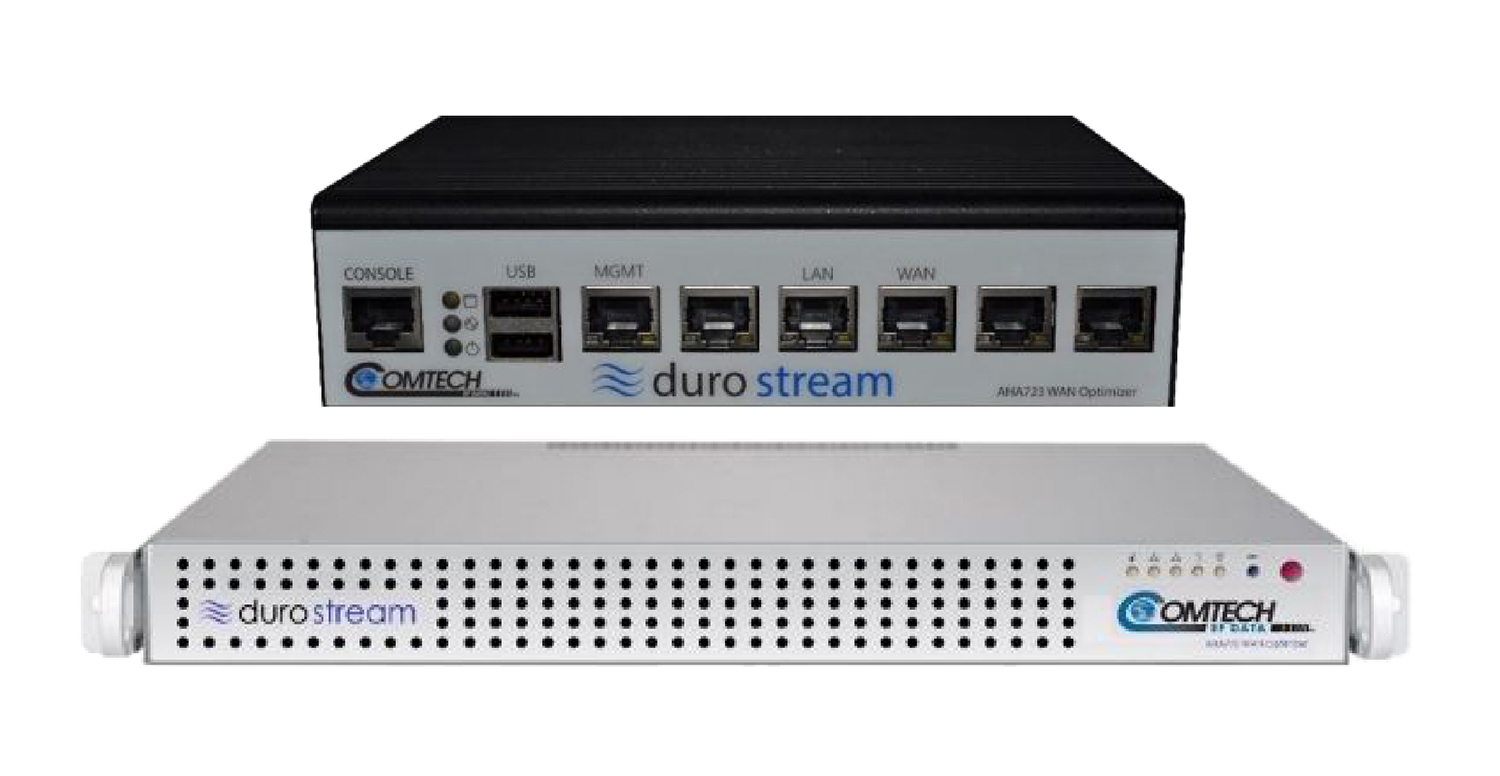 Networks such as the Internet and some Intranets can be noisy and congested environments. Streaming or time-sensitive traffic that must operate over unreliable networks suffering from packet loss often struggles with unsatisfactory throughput and latency using TCP and other protocols. These lossy networks can have a significant impact on traffic flows and data re-transmission. Systems exhibiting even minor packet loss in a TCP/IP environment can create significant back pressure and retransmission traffic. In a TCP/IP network, 1% packet loss can drop the throughput of a link to less than 35% capacity compared to a lossless environment.
Solution: Durostream – FEC and WAN Optimization
Durostream provides a resilient, full-duplex, point-to-point survivable tunnel that dynamically adapts to network conditions to maximize throughput as well as minimize packet loss and latency. Forward Error Correction (FEC) technology along with header compression is employed to ensure that protocol overhead and latency due to retransmissions are minimized while retaining the ability to overcome sustained packet loss rates of 75%, with spikes up to 90%. Adding Durostream appliances to the data source and destination provides significant cost savings by allowing mission-critical links to use existing lossy network infrastructure.
Reduces operational expense by using lower cost public and private network infrastructure
Maximize data transfer rates of actual user data
Minimize latency and packet retransmissions due to packet loss or errors
Adaptive packet loss correction provides the proper amount of protection to maximize link throughput
Seamlessly correct and reconstruct up to 75% packet loss
Increase Quality of Experience (QoE) in video and voice applications
Full-Duplex operation
Header Compression for WAN optimization
Seamless Integration
Typical Users
Government / DOD
Broadcasters
Enterprise
Common Applications
Mission Critical WAN Links
Streaming Video
Live Event Broadcast
VoIP over WAN
Disaster Recovery
Remote Backups