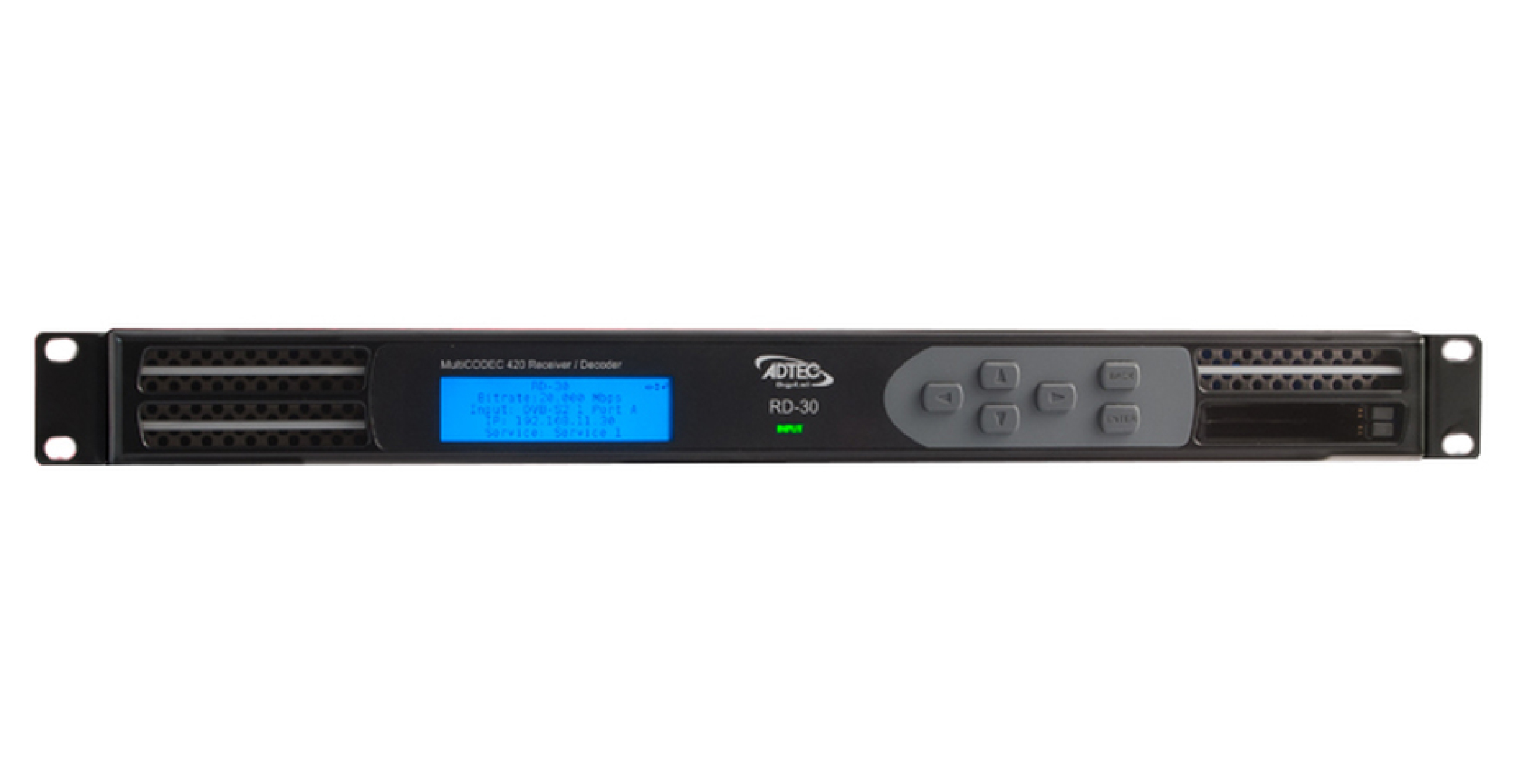 The RD-30 is a standard and high definition IRD that supports MPEG 2 and MPEG 4 AVC/H.264. Interoperable with encoders industry-wide, the RD-30 is ideal for mission critical trunking, ad-hoc OB, DSNG and teleport applications. The clean Web User Interface, Front Panel and SNMP interfaces provide multiple control options from single user control to corporate NMS integrated control.
Features include enhanced control and monitoring via its front-panel, browser and SNMP interface, eight (8) channels of audio decoding, robust VBI support, up to 32APSK demodulation, reliability and ease of use. In addition to MPEG 1 Layer 2, AAC-LC, AAC-HE (v1/v2), Dolby Digital and Dolby Digital+ decoding, the RD-30 supports pass-through audio for Linear PCM, Dolby E, Dolby Digital and Dolby Digital+ (2.0 and surround).
Its input / output robustness, feature set, and reliability enables operation in satellite, terrestrial, IP and fiber applications covering multiple aspects of Broadcast, Digital TV, Distribution, Contribution and Turn-around.
Feature Highlights
AVC and MPEG 2 4:2:0 Decoding
Eight (8) Channels of Audio Processing
MPEG 1 Layer 2, AAC-LC, AAC-HE (v1/v2), Dolby (AC-3) and Dolby Digital+ (E-AC-3)
Analog, AES and SDI Embedded Audio Outputs
ASI and IP I/O (IP Supports SMPTE 2022 FEC)
32APSK Demod with DVB-CI CAM Option
SCTE 35 to SCTE 104 Conversion